Meet our Alumni
Meet Fellow Alumni
CONTACT US
Development Coordinator
Courtney Holmes
(505) 277-0664
Centennial Engineering Center
Suite 3071
courtg@unm.edu
Senior Development Director
Kara Clem
(505) 277-0251
Centennial Engineering Center
Suite 3071
kara.clem@unmfund.org
Brian Burnett
BS, Civil Engineering, UNM 1978
MS, Civil Engineering, UNM 1980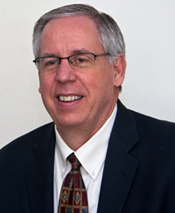 The American Society of Civil Engineers (ASCE) board of directors recently elected Brian G. Burnett, PE, as an ASCE fellow.
Fewer than 3.5 percent of ASCE members are fellows. ASCE represents more than 150,000 members of the civil engineering profession in 177 countries. Founded in 1852, ASCE is the nation's oldest engineering society.
Burnett is president/CEO of Bohannan Huston Inc., a civil engineering, spatial data, and advanced technologies company based in Albuquerque.
Burnett began his career at Bohannan Huston as a design engineer. Some of his recognitions include the Leadership New Mexico Distinguished Leadership Award, NMSPE Engineer of the Year, UNM Civil Engineering and School of Engineering Distinguished Alumni Award, UNM Alumni Association Zia Award, and the ACEC National Community Service Award. Burnett is a graduate of the Leadership Albuquerque and Leadership New Mexico programs. He also is the chair of the UNM School of Engineering Alumni Advisory Council.
Maria Guy
BS, Construction Engineering and Management, UNM 1993
MS, Civil Engineering, Colorado University, Boulder 1995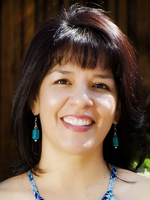 Maria Guy is Vice President of Corporate Support at JB Henderson Construction Company. She started as a project manager and has worked in almost every department, giving her a good sense of what is involved in both completing a construction project and running a construction company.
Maria says her undergraduate program at UNM was a fabulous foundation. Although she always loved construction, her UNM studies introduced her to the more formal aspects of engineering.
Besides her role at JB Henderson, Maria is also the President of the ACE Leadership High School Governing Council. ACE is an innovative Architecture, Construction and Engineering High School designed around project-based learning.
Associated General Contractors (AGC) also supports ACE, and Maria sees her involvement in that organization as having come full circle. She was involved in the AGC student chapter at UNM and was awarded a scholarship. Now, after serving as the President of the AGC NM chapter, she has been asked to join the AGC National Education Foundation Board, the group that gives out scholarships.
Antonio Jaramillo, P.E.
BS, Civil Engineering 2000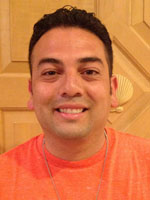 Antonio Jaramillo is the District 3 Traffic Engineer for the New Mexico Department of Transportation. Antonio goes on-site and works closely with law enforcement and the traffic management center to coordinate and deploy dynamic messages about Interstate closures, and manages the courtesy patrol. This is in addition to tasks such as permitting access to new developments, and making sure standards for roadway signing and striping are met.
Student internships for the Arizona Department of Transportation led Antonio to his interest in traffic. After being employed by engineering firms, working his way up from intern to staff engineer and project manager doing transportation and traffic engineering work, he started working for the state two years ago.
While studying for his B.S., he balanced his engineering coursework with a minor in Spanish as well as involvement in the Hispanic Engineering and Science Organization (HESO). Antonio has taken a short break from pursuing his M.S. in Traffic Engineering in order to help care for his two young children. His wife, who he met at UNM, is a mechanical engineer.
Kelly Hahn
BS, Electrical Engineering 1999; MS Electrical Engineering 2002; PhD Engineering 2006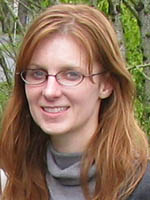 Kelly Hahn is currently working on developing neutron diagnostics for inertial confinement fusion (ICF) experiments at Sandia National Laboratories.
In her senior year, Professor Edl Schamiloglu got her started at the Pulsed Power, Beams, and Microwaves Laboratory at UNM where she worked on high power microwave devices, an area she focused on for her master's degree. As a PhD student, she worked as an intern at Sandia in the Pulsed Power Sciences Center on intense electron beam X-ray radiography.
Kelly found that electrical engineering offers diverse opportunities. It requires high level problem solving which demands a systematic, dedicated approach. She says now she sees the point to all those math classes she took at UNM—it was training her brain to solve problems in a logical way.
In addition to her coursework and internship, at UNM Kelly was in Tau Beta Pi, an engineering honors society. Now as a professional, she's a member of the Institute of Electrical and Electronics Engineers (IEEE) and the American Physical Society.
David Loaiza
BS, Nuclear Engineering, 1992; MS Nuclear Engineering, 1993; PhD Engineering, 1997; MBA, 2001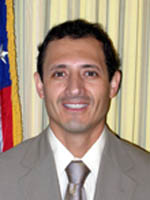 It's a long way from La Paz, Bolivia to Albuquerque. Longer still is the journey from taking chemical engineering classes in Farris Engineering Center to attending a meeting in the Oval Office with the President of the United States. David Loaiza has been on both journeys during his amazing career.
In 1988, Loaiza was an exchange student from Bolivia finishing high school in Santa Fe. He enrolled at UNM with plans to transfer to another school, but he liked UNM so much he stayed to complete all four of his degrees. "I enjoyed my classes and really got to know my professors," he explains. "Plus, I liked the people, food, and weather."
Loaiza worked at Los Alamos National Laboratory (LANL) while he earned his Ph.D. At LANL, Loaiza researched radiation detection and conducted critical mass experiments. Later he moved to Washington D.C. and represented LANL as a technical advisor in the Department of Energy's Office of Dismantlement and Transparency. He helped shape U.S. non-proliferation policy and traveled to North Korea seven times to monitor the country's denuclearization.
When Loaiza learned about the White House Fellowship program, he applied because he felt it would be an excellent way to broaden his understanding of how government works. The rigorous interview process whittled thousands of highly accomplished candidates down to a class of just 14 who would have the opportunity to work at the highest levels of the Federal government.
For his fellowship, Loaiza sought to enhance his talents outside the technical realm, so he's working in the Office of Management and Budget (OMB). "I wanted a position where I could learn about all areas of the government. In the OMB, I interact with all agencies." The new Obama administration will give Loaiza and all of the Fellows an opportunity to compare administrations. "We'll see new angles and new directions because some of the approaches may change, and that will really be interesting."
Loaiza says his UNM experience is key to his career success. "The school has a very strong engineering program, especially in nuclear engineering. The classes were small and the professors were so dedicated," he says. "Plus, UNM has great relationships with LANL and Sandia. Overall, I received a very solid education at UNM."
Allen Fuhs
BS, Mechanical Engineering, 1951
MS, Mechanical Engineering, California Institute of Technology
PhD Engineering, California Institute of Technology, 1958
Allen Fuhs is Distinguished Professor Emeritus at the Naval Postgraduate School.  He has been elected Fellow of four different professional societies and has been elected to the International Academy of Astronautics and to the International Space Hall of Fame. 
At UNM, he has received the Erna Fergusson Award, as well as Distinguished Alumnus Awards from the Mechanical Engineering Department and from the School of Engineering.