High School Programs
High school students considering pursuing STEM (science, technology, math or engineering) majors in college have a unique opportunity for hands-on research under the guidance of undergraduates, graduate students and/or faculty. 
UNM Engineering coordinates research experiences for high school students as part of the School's participation in National Science Foundation Engineering Research Centers (ERCs), which bring academia and industry together to conduct research and educate students.
Introduction to Engineering Fields Camp (ages 14-16)
TBA, Summer 2018
Take your interest in engineering to the next level and gain a competitive advantage through this week-long, day camp at the UNM School of Engineering.  Through hands-on projects, tours, and interactions with UNM School of Engineering faculty and students, participants will explore the many disciplines within engineering.  This course is a part of the UNMCE Lobo Learning Launch college and career exploration series. Lunch is provided.
Registration is available online at http://ce.unm.edu/youth or by phone 505-277-0077, option 1.  
Research Learning Experiences Program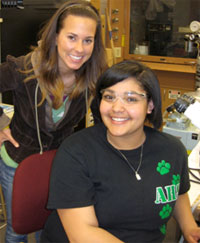 Who: 9-12 graders
When: Internships are available for the academic year and for 8-weeks in the summer
Pay: Volunteer and paid positions are available
The School of Engineering offers a limited number of mentored research laboratory positions to high school students.  Students work on important engineering problems under the guidance of undergraduates, graduate students and/or faculty.  They participate in group meetings and are invited to attend engineering seminars.
Most, but not all, of the internships are on south campus at the Center for High Technology Materials (CHTM),MAP. A few will be located on the main UNM campus.
A short presentation and/or report are required at the end of the program.  
There are two types of internships:
Academic Year.  If your school offers credit for internships during the academic year, you are invited to apply for these unpaid positions.
Summer.  Most summer internships are paid positions, with hourly rates set by the University's Summer Youth Hire Program. This program runs from May through August.  However, the professor for whom you work will set your actual work dates and number of hours per week.  Not all summer internships are full time. Most internships are not paid.
Selection criteria:
1) Student must be at least 16 years old at the time of hiring and be able to get a work permit from a school counselor at time of hiring. 
2) For paid positions, student must be a citizen of the United States or be authorized to work in the U.S. 
3) Student must have a reliable way to get to UNM.
4) Student must be committed to complete the entire program (8 weeks in the summer or one semester during the school year).
For Summer 2018 internships, we will accept applications between March 1 and  March 31, 2018.
1. Online application: http://goo.gl/forms/VWEiuzrSCK
2. Please have 1-2 teachers fill out a recommendation form and email it to esscareers@unm.edu with the subject line: HS recommendation_YOUR LAST NAME.
3. Have your school scan and email a copy of your transcipts to esscareers@unm.edu, with the subject line: HS transcripts_YOUR LAST NAME. Your school may also give you a hard copy, which you may scan and send to us at esscareers@unm.edu, with the subject line: HS transcripts_YOUR LAST NAME.
If you are unable to send any of these documents electronically, you may send hardcopies to the following address:
High School Summer Research Learning Experience
MSC 01-1145, Room 2101
1 University of New Mexico
Albuquerque, NM 87131-0001
Contact Information
For more information on UNM Engineering Outreach Programs, contact Stefi Weisburd, Outreach Manager, at weisburd@unm.edu.
Phone: (505) 272-7971 or ( 505) 277-8402.