Supporter Stories
Couple's gift creates UNM's first endowed dean position 

Thanks to the generosity of an Albuquerque couple, The University of New Mexico School of Engineering is now the first school or college in the University to hold an endowed dean's position.
Jim and Ellen King's gift of $500,000 will create the Jim and Ellen King Dean of Engineering and Computing.
The Kings' gift, combined with matching funds from the state, will provide the $1 million funding needed to create the endowed deanship.
The University of New Mexico Board of Regents approved the naming of the endowed deanship at its April 8 meeting.
Read more here.
---
Civil engineering alumnus' gift will benefit student scholarships

Dana Wood, who earned both his bachelor's and master's degrees in civil engineering from UNM, had a passion for the School of Engineering. His passion will live on through a $150,000 endowed gift that will benefit student scholarships.
Dana, a native of Gallup, New Mexico, worked for Bohannon Huston Engineering as his first job out of college. He had a lifelong passion for computers, which was put to good use when Bohannon Huston started a spinoff company called Diginetics that developed one of the first CAD programs for civil engineering. Dana helped write the software that was sold to other engineering firms in the United States. He eventually rose to lead the company.
Later, Dana developed a software called PowerMerge, which would sync a user's files on different computers before the Internet and "cloud" were pervasive. Dana and associates also started a company called Leadertech, which had offices in Albuquerque and Los Angeles.
Dana's three siblings are also loyal Lobos. Doug Wood, a School of Engineering civil engineering alum, is retired after a successful career with Hewlett-Packard. Charlene (Dolly) Delaunay, Dana's sister, also graduated from UNM and has retired from her teaching career in Wyoming. John Wood, PhD is a Mechanical Engineering Professor who directs the Manufacturing Training and Technology Center at UNM's School of Engineering.
Dana fought a long battle with cancer, passing away in 2013. Although he searched the world for cures, he felt the best care he could get was at the UNM Cancer Center. The Estate of Dana Wood also provided a gift to the UNM Cancer Center to support a chair of clinical research.
We appreciate all that Dana accomplished in his life, and we thank his family for honoring Dana through these gifts.
---
Dean's Fund to benefit from alumnus' passion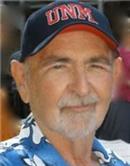 Constance Kimberly, the wife of late School of Engineering alumnus Peter C. Kimberly, recently made a $5,000 donation to the School's Excellence Fund in honor of her husband.
Peter Kimberly received a bachelor's degree in chemical engineering from UNM in 1960. He went on to become the founder and CEO of LPK Industries in California. Peter passed away in April 2014.

Donations to the School of Engineering Excellence Fund support projects and programs in the School that have the greatest need.

The School of Engineering greatly appreciates Constance's tribute in memory of her late husband. Her kind generosity will have a great impact on the School and its programs.