Alumni Leadership Board
Message from the Chair
Message from the Chair
Alumni Group Charts New Direction 
I hope that your summer has been enjoyable and productive. My mind is on the devastation that the latest natural disasters have brought. The loss of life is sobering and the destruction of infrastructure will put to the test the skills and expertise of all types of engineers to help in recovery efforts. As with other major disasters throughout history, I'm confident that the people hit hard by these disasters, and those that come to their aid, will rise to these mammoth challenges and build a more resilient communities.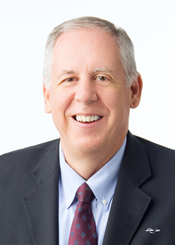 I wanted to share some exciting news about the School of Engineering (SOE) Alumni Group. Dean Christos Christodoulou has followed the lead of Dr. Joe Cecchi by continuing the work of this group. It will now be called the "UNM School of Engineering Alumni Leadership Board (Board)." This change has given us a chance to reconnect with former members and determine their interest in continuing. I'm pleased to report that most of group has enthusiastically responded with their commitment in writing.
The Board has been established to "support the Dean's Office in the UNM SOE and the School's leading-edge research and educational opportunities for the engineering worker of the future." The Board will support a number of goals for the SOE that deal with: 1) learning, teaching, and research, 2) recognizing and utilizing cultural and intellectual diversity as creative forces, and 3) advancing economic development and addressing critical technological challenges for New Mexico, the nation, and the global economy.
A number of areas define the ways that the Board can potentially help the SOE in the future:
1. Participate in the SOE's development of a Long-Range Strategic Plan.
2. Participate in the recruitment of undergraduate and graduate students, along with assistance with the SOE Internship Program.
3. Facilitate communication and networking among alumni.
4. Participate in raising funds for the SOE, as directed by the Dean; for example giving to the UNM SOE's Excellence in Engineering Initiative.
5. Assist with introduction of the Dean to various outside engineering, business, and community organizations.
6. Promote and participate in SOE events (e.g., Annual Distinguished Alum Awards, Silver Grad Celebration, and Golden Grad Celebration).
As you can see, these ambitious plans will take a lot of effort and help to achieve them with excellence. Feedback from a survey several years ago confirmed that there are many alumni willing to volunteer their time and skills to help the SOE thrive. As we develop our plans, we will be exploring ways to communicate better with all engineering alumni and finding ways that you can help.
Based on our new direction, if you would like to show your early support please contact Courtney Holmes at courtg@unm.edu.
On behalf of the Board, we are very excited about the School's future! Go Lobos!
Brian G. Burnett, PE, F.ASCE
BSCE '78, MSCE '80
Chair, UNM SOE Alumni Leadership Board