News and Events
Alumnus appointed to post by President Obama
Alumnus appointed to permanent post by President Obama
October 17, 2016 - Kim Delker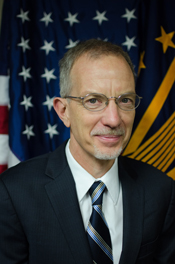 L. Wayne Brasure, acting director of the domestic nuclear detection office at the Department of Homeland Security since May, has been nominated by President Barack Obama to serve in the role on a full-time basis. Brasure earned a Ph.D. in nuclear engineering from The University of New Mexico in 1991.
As a result, Brasure will be stepping down from his position on the School of Engineering Alumni Advisory Council.
Brasure was a 2015 recipient of the School's Distinguished Alumni Award. In addition to his UNM degree, he also earned a bachelor's degree in physics and astronomy from the University of Michigan in 1980, a master's in systems management from the University of Southern California in 1983, and a master's in nuclear engineering from the Air Force Institute of technology in 1985.

Brasure previously served as chief of the U.S. Air Force's office of scientific research before he moved to the Department of Homeland Security in 2014. He worked at the Air Force Nuclear Weapons Center as executive director between 2010 and 2014 after two years as stockpile sustainment manager at the National Nuclear Security Administration within the Department of Energy.
He spent almost three decades at the military branch and held several management and leadership roles, such as director of the Air Force High Power Microwave Program and stockpile systems division chief at the service branch's nuclear weapons and counterproliferation agency.
Earlier in his career, Brasure served as an adjunct professor of nuclear engineering at UNM. He has been an active-duty Air Force officer, and worked in the private sector prior to his selection to the senior executive service.