UNM Advanced Graphics Lab Named Top 50 Game Design Program
March 8, 2010

The UNM Advanced Graphics Lab's video-game development program is now ranked among North America's "Top 50 Undergraduate Game Design Programs" by The Princeton Review and GamePro magazine.
The Advanced Graphics Lab is the research laboratory at UNM that focuses on cutting-edge work in the technical aspects of computer graphics and digital media. The lab is directed by Dr. Pradeep Sen, Assistant Professor in the Electrical & Computer Engineering Department in UNM's School of Engineering. He co-founded AGL with Assistant Professor Joe Kniss of the school's Computer Science Department, where Sen holds a joint appointment.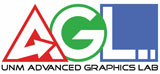 The Princeton Review surveyed 500 schools in the U.S. and Canada that have game design
programs before selecting its top 50. Selection criteria included the quality of the curriculum,
faculty credentials, facilities, and infrastructure as well as data on scholarships, financial aid and career opportunities. The Princeton Review's list appears on its website and in the April issue of GamePro magazine, its partner on the project.
"There are a lot of game development programs out there now," Sen said. "One thing that sets us apart from many of the trade school programs is that we combine practice with a solid theoretical foundation. This gives our graduates the technical background they need to become leaders in the game industry."
Dr. Sen stresses that this is a result of designing a curriculum that produces first-class computer engineers, not just game developers.
"We are not just training game developers with our courses," he said. "Our classes on computer hardware, software, operating systems, and networks mean that our game developers are solid engineers who can work in any industry they wish."
Real-World Skills
One of the unique aspects of the game development program at AGL is the emphasis on real world production experience. Dr. Sen designed the curriculum in this way to avoid the chicken-and-egg problem that many graduates of game development programs face when trying to get jobs in the industry.
"The game development industry is very competitive, and companies are looking for people that already have experience developing games that have shipped to the public. Unfortunately, most students graduating from traditional game development programs do not have that kind of experience, and without it they cannot get the jobs they need to gain it. It's kind of a chicken-and-egg problem. We overcome this by offering courses where students publish real games to the public, which gives them visibility."
For example, the Advanced Video Game development class that Sen teaches has released three student project video games to the Xbox 360 platform using the Xbox Live service. Although the games have been available to the public for just a couple of months, the three games – "Magnetic Defender" by Justin Kellogg, "Toybox Racing" by John Harger, and "Marauder Madness!" by Jeremy Wright and Craig Vineyard – have already shipped more than 10,000 copies to gamers all around the world, including countries as diverse as Japan, Spain, Italy, Germany, Sweden, Canada and France. To read about AGL's Xbox games that are available for download, go tohttp://soe.unm.edu/latest/july-dec09/ECE_Games.html. Revenues from the sales of these games are used to build the game development program at the AGL.
"We salute UNM's Advanced Graphics Lab for their exemplary work in game design education," Princeton Review's publisher, Robert Franek, said. "It has long been our mission at The Princeton Review to help students research and get into the education programs best for them and on to careers in fields they are passionate about. For students aspiring to work in the rapidly growing field of game design and the companies that will need their creative talents, we hope this list brings many wonderful candidates to these programs."
USA Today's blog GameHunters reported on the ranking, saying "Parents are always asking us what schools we would recommend their children apply to if they want to learn how to make
video games. Now we have the perfect answer: The Princeton Review's Top 50 Undergraduate
Game Design Programs, created in partnership with GamePro magazine."
The mission of the Advanced Graphics Lab is to do research and education in the science and technology of computer graphics and digital media. Aside from the two faculty members, the lab hosts a set of associated researchers, visiting professors, and eight full-time graduate students. In addition to the educational program in game development, the AGL team does cutting-edge research in areas as diverse as real-time rendering, computational photography, computer vision and visualization. Research by Dr. Sen and his students has been published at SIGGRAPH, the leading conference in computer graphics, as well as peer-reviewed journals such as ACM Transactions on Graphics, IEEE Transactions on Visualization and Computer Graphics, and the Eurographics Computer Graphics Forum.
Portfolio of Successes
Thanks to the success of the program that Dr. Sen is building, UNM has joined MIT, USC and
the University of Washington on Microsoft's list of technical universities that have game
development programs featuring XNA, Microsoft's game development toolkit. The universities
are listed on Microsoft's site, http://creators.xna.com/en-US/academia/curriculum.
"The game development program we have started is helping us gain visibility among companies in the game industry, which in turn results in our graduates getting hired," says Sen.
One of the first graduates of Sen's new curriculum, Peter Wilkins, landed a job with Disney
Interactive, the arm of Disney in Salt Lake City that makes video games, when he impressed the interviewers with his advanced knowledge of real-time global illumination algorithms.
"He answered all their questions on spherical harmonics," Sen said. "The folks at Disney
Interactive were very impressed because typically only students from Stanford and MIT have
that kind of knowledge. Now UNM graduates are on that list."
Part of the game development process is learning the business side of the industry, which
involves getting patents and intellectual property. Sen helps his students learn how to copyright their games through STC.UNM, the nonprofit that UNM created to commercialize its
technology. Five of Dr. Sen's computer gaming students received Creative Awards from
STC.UNM in April 2009 after filing copyrights on their video games. The story is available on
the ECE@UNM website at www.ece.unm.edu/morenews/cal48.htm.
Videos of all games developed by UNM students involved with the Advanced Graphics Lab are
available on AGL's YouTube channel, http://www.youtube.com/advancedgraphicslab. The AGL Games Division also has a website in the works that provides information about its game development program and process: http://agl.unm.edu/games.
High school students interested in the game development undergraduate program at the
Advanced Graphics Lab should contact the Electrical & Computer Engineering Department's
undergraduate program advisor, Roberta Menicucci, at rmenicucci@ece.unm.edu.
Students interested in the graduate program at AGL should contact ECE's graduate program
advisor, Elmyra Grelle, at egrelle@ece.unm.edu.