First $5,000 Qforma Dissertation Award Presented to University of New Mexico Graduate Student
June 15, 2010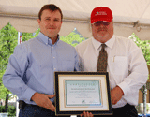 Qforma, the leading provider of advanced analytics and predictive modeling technologies for the health sciences industry, announced today that its first-ever Qforma Computational Thesis / Dissertation Award, in the amount of $5,000, has been presented to Nicholas Dylan Pattengale, who received his Ph.D. in Computer Science from the University of New Mexico (UNM) in Albuquerque at commencement ceremonies on May 15.
Photo: UNM Computer Science graduate Nicholas Dylan Pattengale (left) receives the QForma award from Roger D. Jones, Ph.D., chief scientific officer
The Qforma Award is presented to a UNM School of Engineering student for the most outstanding computational master's thesis or Ph.D. dissertation within that academic year. Dr. Pattengale's award-winning dissertation is titled "Efficient Algorithms for Phylogenetic Post-Analysis."  
"In reviewing the candidates for this award, we considered the technical depth, sophistication and innovation of their work, the importance of the problem that the dissertation addressed and the impact it is likely to have on the field of computer science," said Stephanie Forrest, professor and chairman of computer science at the University of New Mexico and external professor and science board member of the Santa Fe Institute. "Dr. Pattengale's dissertation was superb on all three counts, and we are delighted that he was chosen to receive the first Qforma Dissertation Award."  
Qforma also funds a $5,000 Lectureship for an extraordinarily promising junior faculty researcher in Computer Science at UNM, which was awarded to Shuang Luan, Ph.D. last fall. The Lectureship and Thesis / Dissertation competitions, which will be held annually, support the quality of UNM educational programs by attracting top talent to the school.
"At Qforma we create intelligent data software solutions for the healthcare industry based on technology developed at Los Alamos National Laboratories in New Mexico," said Roger D. Jones, Ph.D., chief scientific officer of Qforma. "We believe it is important to support students who share our passion for computer science, here in the state that has already made such significant contributions to the field, and we are pleased to honor Dr. Pattengale with the first Qforma Dissertation Award."
About Qforma
Qforma is the leading advanced analytics and predictive modeling company specializing in solutions for the health sciences industry.  Qforma leverages the talents of physicists, mathematicians and programmers, and has developed a unique approach to quantifying large data flows with the purpose of eliminating the inefficiencies of traditional sales and marketing techniques. In May 2009, Qforma launched "Most Influential Doctors" (MID), a first-of-its-kind online database presented by USA TODAY that provides consumers with information about the top community medical leaders in virtually every metropolitan area in the U.S.  The database is available at www.influentialdoctors.usatoday.com.  
Qforma is headquartered in Santa Fe, NM, with offices in Princeton, NJ.  More information is located at www.Qforma.com.
About the University of New Mexico
The University of New Mexico (UNM) is the state's largest university, serving more than 34,000 students. UNM is home to the state's only schools of law, medicine, pharmacy and architecture and operates New Mexico's only academic health center. The Computer Science Department, founded in 1979, is an ABET-accredited, strongly interdisciplinary program offering B.S., M.S. and Ph.D. degrees. UNM is noted for comprehensive undergraduate programs and research that benefit the state and the nation.
| | |
| --- | --- |
| Media Contacts: | |
| Lisa Haley | Jeff Hoyak |
| Qforma | MCS Healthcare Public Relations |
| (505) 603-7596 | (800) 477-9626 |
| | |