Optical Science and Engineering Students to Participate in State Fair
September 8, 2010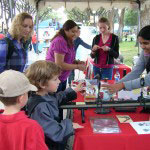 UNM Optical Science and Engineering students will be talking with fairgoers and doing demonstrations at the New Mexico State Fair on Friday, Sept. 17, in collaboration with the Optical Society of American and the Society of Photo-Instrumentation Engineers student chapters.  They will be participating in Science and Technology Day or Celebra le Ciencia day.
The OSE program will demonstrate innovative and creative optical devices such as a solar/ultraviolet bead demonstration with Stephen Myers.  Maya Kutty will perform a demonstration with kaleidoscopes and explain the optical science behind them.  The demonstrations will be done between 10 a.m. and 3 p.m.
The OSE program is an interdisciplinary graduate program that is jointly administered by the Department of Physics and Astronomy and the Department of Electrical and Computer Engineering and is affiliated with the Center for High Technology Materials. Professor of Electrical and Computer Engineering Luke Lester is the general chair of the program and Professor of Physics Mansoor Sheik-Bahae is co-chair.
For more information about OSE, contact Doris Williams at (505) 277‑7764.