Catalin Roman Named UNM School of Engineering Dean
February 21, 2010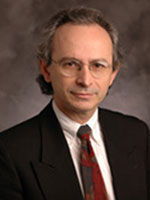 Provost Suzanne Ortega is pleased to announce the appointment of Catalin Roman as the dean for UNM's School of Engineering.  "We are delighted to welcome Dr. Roman to the University of New Mexico.  He is a highly accomplished computer scientist and a talented administrator.  We are pleased to have him join our senior leadership team and ask the UNM community to welcome him and his wife, Sarita Cargas to Albuquerque."
Dr. Gruia-Catalin Roman was a Fulbright Scholar and graduated from the University of Pennsylvania with a BS, MS, and PhD, all in Computer Science.  He started his academic career at Washington University in St. Louis and is now the Harold B. and Adelaide G. Welge Professor of Computer Science and is also the Chair of the Department of Computer Science, an appointment he has held since 1997.
"Dr. Roman is an outstanding choice to be Dean of the UNM School of Engineering," said Arup Maji, who has been serving as interim dean since July, 2009. "He will bring strong leadership skills and experience in increasing enrollments, research, and community involvement."
Dr. Roman has a reputation for being a passionate advocate for diversity, outreach, multidisciplinary education, and collaborative research across schools and departments.  He has had a rewarding research career and has published over 180 technical papers and graduated nineteen doctoral students.  He is also the Director of the Doctoral Program, where he has a reputation as an innovative, caring and demanding teacher.
In the span of three decades, Roman has enjoyed a rewarding and exciting research career.  He published over 180 technical papers; graduated nineteen doctoral students, with the majority pursuing their own academic careers; secured strong levels of research funding, both alone and in collaboration with colleagues in the department and outside; held leadership positions in key international conferences; and served as associate and guest editor for several leading software engineering journals.