Public invited to April 29 solar car unveiling as UNM team departs for Indy 500
April 19, 2011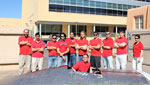 For several months, students in ECE's Senior Design course — ECE 419/420 taught by Professor Olga Lavrova — have been designing, building and testing a solar-powered car that they named Lobo del Sol. The team will race the car in the Formula Sun Grand Prix during Emerging Tech Day on Saturday, May 7, as part of this year's Indy 500 pre-race celebrations in Indianapolis.
The public is invited to attend the unveiling of Lobo del Sol and to wish the team good luck onFriday, April 29, at 10:50 a.m. sharp in front of the ECE building (the southeast lobby entrance).
U.S. Representative Martin Heinrich, NM-1, will visit briefly from 11 to 11:15. While earning his bachelor's degree in mechanical engineering, Rep. Heinrich built and drove a solar car in the 1993 cross-country version of this race.
The Lobo del Sol team will depart for Indiana immediately after the unveiling.
Drop by and see the students' sleek solar-paneled car design — the more fans the better. You can also "like" the team's Facebook page here and follow them on Twitter here. 
With their solar-car project, the students are learning how to build a car to compete in the annualAmerican Solar Challenge, a cross-country time/distance rally that covers from 1,200 to 1,500 miles between multiple U.S. cities.
"The UNM team designed and built a solar-powered, all-electric, aerodynamic car with a unique DC motor," said Lavrova. "Students had to evaluate how each of the components of the car work with and affect other components. This is a truly seamless design."
This year, 12 teams from various universities are signed up to participate and compete in theFormula Sun Grand Prix.
UNM's solar-car team is very grateful to the project sponsors. PNM donated $25,000, Schott Solar donated the solar cells, and the sign shop in UNM's Physical Plant applied the insignia to the sides of the car.
Both the Grand Prix and the Solar Challenge are sponsored by the nonprofit Innovators Educational Foundation at the Missouri University of Science and Technology in Rolla, Missouri. American Solar Challenge events have been staged for 20 years across North America.
Date Friday, April 29 at 10:50 am
Location Electrical and Computer Engineering building on the southwest corner of main campus, #46 on the UNM map