2011 WISE Shadow Event Offers Local High School Students a First-Hand Look at Engineering at UNM
May 10, 2011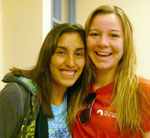 Ball Aerospace and the UNM Women in Science and Engineering (WISE) Program invited students from Albuquerque High School (AHS) to shadow UNM science, math and engineering students for "Shadow a WISE Student Day," on April 27, 2011. In photo, Albuquerque High student Andrea Romo (left) shadows UNM student C. Ariana Plant.
UNM's Civil Engineering Department hosted the event this year, and visiting AHS students toured CE laboratories, attended classes, and interacted with students and professors.
The event kicked off with introductory remarks from the CE Department faculty. CE Department Chair Dr. John Stormont provided students with an overview of civil engineering, discussing the broad scope of the field and emphasizing the growing importance of sustainable infrastructure.
Dr. Andrew Schuler, Assistant Professor of Environmental Engineering, spoke to students about the role of environmental engineering and described how  waste, wastewater, pollution, and air quality are concerns for civil engineers.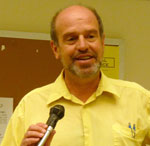 Dr. Walter Gerstle, Professor of Structural Engineering, (in photo on right), concluded the introduction to CE by engaging students in a discussion about structural engineering, challenging them to think critically about how a building is designed and constructed.
AHS students spent the rest of the day shadowing UNM WISE students, attending presentations and demonstrations in the CE Department laboratories, and learning what it means to be a UNM student. The event concluded in the Mechanical Engineering Atrium where representatives from all UNM engineering departments offered presentations and distributed curriculum material.