Mechanical Engineering Graduate Student Ben Rael Wins Honor for Paper
June 2, 2011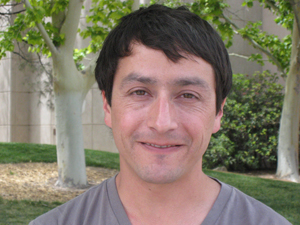 UNM Mechanical Engineering graduate student Ben Rael won second place for his paper, "Characterization of Zinc Powder Compactions," in the 2011 American Society for Engineering Education (ASEE) Gulf South West Conference.  Rael completed his Bachelor's degree in Physics, but never felt the connection to the field that he was looking for.  He didn't feel the connection until he discovered engineering.
Rael grew up in Taos, New Mexico where he spent years hiking and climbing in the nearby mountains. "I always wondered how people really knew ropes and carabiners had the strength to hold the weight of a person," he says.  He is now doing graduate work in the field of powder metallurgy (PM).
PM products are used in a range of industries from aerospace and automobile applications to high strength composites and every day consumer products.  PM components are manufactured by compressing fine metal or ceramic powders in a mold under high pressure.  The component is then bonded together under high temperatures and controlled conditions.
Currently Rael is working in the lab testing components made from metallic powers for strength.  He plans to spend the summer examining how metallic powders and carbon nanotubes might combine to make components, and whether the nanotubes give components particular properties.  
He works closely with Mechanical Engineering Associate Professor Tariq Khraishi who says, "Ben has been an excellent student in our ME department. This award is a testament of his hard work and eagerness to advance his knowledge."
Rael's research is supported through the National Science Foundation's Louis Stokes Alliances for Minority Participation (LSAMP) program.  The Fellowship supports his study of PM components and their capabilities.
Media contact: Karen Wentworth (505) 277‑5627; e-mail: kwent2@unm.edu