UNM Civil Engineering Student Receives Hydro Research Foundation Fellowship
June 13, 2011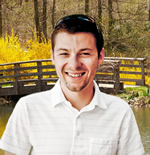 Ryan Morrison, who is pursuing a Ph.D in Civil Engineering at UNM, recently received a prestigious two-year, $94,000 fellowship from the Hydro Research Foundation.  Fellows are selected based on research vision, innovation, academic performance, potential for leadership and overall strength of their research proposal. Morrison's fellowship is for his study on analysis methods and modeling tools to optimize dam operations on the Rio Chama. 
Morrison's research focuses on the interaction between ecological services, the ways in which human actions alter the services, and the best approaches for sustainably using natural resources for human development. "Ryan is a talented student and researcher and he is very deserving of this award," says his advisor, Mark Stone, assistant professor of civil engineering. "With this fellowship, Ryan will advance our research in the area of sustainable water resources management."
Morrison has known Stone since he was an undergraduate at Washington State University. "Besides being a great mentor during my time at WSU, Mark's research has always fascinated me," says Morrison.  "When Mark joined the civil engineering department faculty, I knew it was the perfect time to collaborate with him at UNM." 
One of the perks of Morrison's research is the river itself. A major tributary of the Rio Grande, the Rio Chama runs through a canyon with walls that rise to 1,500 feet and is ideal for exploring geology as well as hiking, trout fishing and paddling. Last weekend, Morrison and Stone rafted the Rio Chama to select monitoring sites for the research project. They both enjoy climbing, backpacking, and a variety of outdoor activities, so the excursion combined research with fun.
Morrison's love of rivers and mountains stems from his childhood. Growing up in Omak, Washington, a small town located near the Columbia River and Northern Cascade Mountains, he spent summers backpacking and fishing in the isolated landscape near his home. Morrison earned a Bachelor and Master's Degree in Civil Engineering (emphasis in water resources) from Washington State University. After graduating from WSU, he worked for four years at HDR Engineering, Inc. in Portland, Oregon, gaining valuable experience working on water resources projects dealing with hydropower on the Columbia River. Morrison is also a registered Professional Engineer in the state of Oregon.