GAITS Sponsors Scholarship Fund for UNM School of Engineering Students
July 19, 2011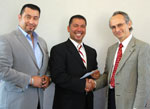 Global Analytic Information Technology Services (GAITS) has partnered with the UNM School of Engineering to fund a scholarship to support students who are studying computer science.
"The UNM School of Engineering is honored to receive GAITS' generous support to create scholarships for students majoring in computer science," says Dean Catalin Roman. "These much needed scholarships will help ensure that our best and brightest students can concentrate on completing their undergraduate education without juggling outside employment. We look forward to a long and productive partnership with GAITS."
Headquartered in Fairfax, VA, GAITS provides IT and networking solutions and has about 300 employees in New Mexico. "GAITS has always been and will continue to be a good corporate citizen," says GAITS President and Chief Operating Officer Harry Thornsvard. "It is our pleasure to partner with the UNM School of Engineering to provide support to those who have a need."
The scholarship is for $5,000 per year for two students who have declared their major as CS and are New Mexico residents. The scholarship will begin Fall 2011 and is for students beginning in their junior year and continuing thru senior year. Non-traditional students (those not eligible for the New Mexico Lottery) will be encouraged to apply.
GAITS is also establishing an intern program for students to gain experience in the marketplace and for customers to benefit by the latest and most up-to-date thinking in the field of computer science and information technology.
Photo: Tony Asefi, GAITS Chairman, and Thomas Asefi, GAITS CEO, with UNM School of Engineering Dean Catalin Roman.