UNM Team Places in Top 10 for Two Events in International Racing Competition
July 5, 2011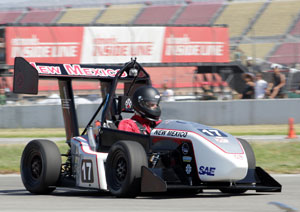 The UNM LOBOMotorSportsteam placed 8th in design, 9th in autocross, and 12th in marketing at the Formula SAE®, an international competition for open wheel, open cockpit Formula-style race cars held June 15-18, 2011 in Fontana, CA. The competition tests research, design, manufacturing, developing, marketing, management and finances for cars engineered to a fictional customer, the weekend racer. 86 teams from all over the world registered for the event.
The UNM School of Engineering is one of a handful of universities to offer the FSAE program as a credited course; other teams are clubs. In three semesters, UNM students learn complex theory and analysis of dynamic vehicle systems and receive hands-on experience in manufacturing procedures and materials. To ensure continuity, the class includes students from 2011 and 2012, and a mix of 21 students from both classes went to the competition. 
"Our 8th place in design, which is pure engineering, is huge," says John Russell, professor of mechanical engineering, who teaches the class. "This is real-life engineering that tests students' depth of knowledge and their understanding of the design they built." 
The design component tests problem-solving and critical thinking; students are asked questions by the judges and they have to explain the choices they made in the design. Autocross involves two drivers each driving the course twice, demonstrating the consistency of the car and the drivers' ability to navigate a serpentine course.  The marketing presentation tests students' market research, risk analysis, sales ability, and more. 
"We were on our way to a top 10 finish overall; possibly top 5," says Russell. Because of a hub failure in the endurance event, the team did not score points, finishing 26th place overall. 
"This was our first car with functional aerodynamics - a front wing, rear wing, and diffuser undertray - all designed to produce downforce like Formula 1 and Indy cars. Plus it was really, really fast! The best teams came over and complimented us."
Take a ride with the UNM FSAE Team
FSAE is also a test of project management skills, teamwork, and thinking on your feet. UNM project manager Jaik Ortiz orchestrated 35 students from the class, handled event scheduling, project management, and administration. "It's a lot of fun, a lot of work, and the payoff is terrific," says Ortiz. "From the 2010 UNM team, three people were hired in the auto industry: one at Chrysler, two at Ford."
A Few UNM FSAE Student Profiles
Jaik Ortiz says he has always has been a problem-solver and handles stress really well; a great combination for project manager. Ortiz had enrolled in the UNM business school out of high school, but was making too much money as a mechanic, and continued in that field for 7 years. "FSAE is what convinced me to go back to school," he says. Now he is working at Sandia and deciding between grad school and a job in the auto industry. 
Francis St. Pierre is an exchange student from L'École de technologie supérieure in Québec, Canada. He used to race motocross at home and took the FSAE class at UNM as an elective. The team chose him as one of the two drivers for the autocross and endurance events. "Francis attacks the course," says Russell. "He is a very accomplished driver." St. Pierre said the FSAE program was perfect for him personally and academically. "I couldn't believe we'd build a car in two semesters," he says. "It's a great experience for teamwork. When I first came to the US, I couldn't speak English very well but people helped me a lot. And we had fun – when we weren't working on the car, we went snowboarding, hiking, and hung out."
Steve Carpenter was the other driver for autocross and endurance. "Steve is also a very accomplished driver," says Russell. "His driving got us the 9th place in autocross." Carpenter also filled the critical role of systems engineer.
A 2009 MS student, Chris King, used his MS thesis to study the continuously variable transmission. He put together a model, tuned it on a computer, then applied it on the track, and considerably improved the performance of the continuously variable transmission.
Zachary Zelle says, "I've relied heavily on what I learned from the FSAE program in all three of my successful interviews (Honeywell, Sandia's intern program, and now as a full time technical staff member at Sandia). Also, with the 2010 team, I now have a second family: a good majority of us still get together quite often, and we're all very close."
For more information, visit the LOBO MotorSports site.