Investment in the Future Pays Off for New Mexico Legislature
August 22, 2011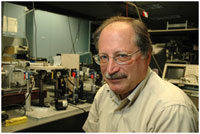 This summer the U.S. Patent Office issued its 108th patent to researchers at the University of New Mexico's Center for High Technology Materials.  It is a milestone for CHTM, and it is a tribute to the imagination of the New Mexico legislature who set out to do something about economic development more than 25 years ago.
In the early 1980's the money was rolling in to the accounts for the State of New Mexico from oil and gas.  The economy was growing and the state legislature took a gamble on higher education.  They created several "Centers of Excellence" around the state.  CHTM received $9.8 million over a period six years beginning in 1983.
For most of that time CHTM has been led by Steve Brueck, a prolific researcher in the area of optical lithography, non linear optics and spectroscopy. The center has brought in more than 18 times the original state funding in research grants and more than 400 students have received M.S. or Ph.D. degrees for research conducted at the center.
Brueck leads by example.  He says when researchers are immersed in an environment where people talk about the research and talk about how that research can be used by industry they quickly understand that it benefits both industry and the individual researcher to apply for a patent.  For companies, licensing a patent allows them to build a business around a particular technology.  Brueck says he is particularly impressed that 45 of the 108 technologies that CHTM researchers have patented over the years have been licensed by companies who wanted to work with the technologies.  "It's a sign," he says, "of how relevant the CHTM technologies are to the business community."
That's just what his associate director at CHTM Sanjay Krishna is doing.  Krishna is a professor in the Electrical and Computer Engineering at UNM.   Krishna has received grants to develop novel semiconductor detectors for infrared cameras   The technology can be used for a number of applications, but he and his wife Sanchita, who has a Ph.D. in cancer biology are using it to help diagnose skin cancers.
They founded, SK Infrared last year.  The Advanced Longwave Infrared Imaging and Analysis System (ALIAS)  developed by SKI takes infrared photographs of human skin following a temperature stimulus to find areas that are slightly warmer or cooler than normal.  That allows dermatologists to zero in on suspicious moles.  Current technology requires visual examination followed by a tissue biopsy before an actual diagnosis can be made.  If the biopsy reveals cancer, the mole is removed.   The Krishnas hope to prove their infrared camera can reliably diagnose cancer without the need for biopsy.  They expect to have a prototype for clinical testing in the next 18 months.
At UNM, as at many universities, the researcher works with the university to patent their ideas.  The patent becomes property of the university, and if the researcher wants to develop it commercially he licenses it from STC,UNM.
UNM has developed a very strong and effective process through STC.UNM, a non-profit corporation wholly owned by the university for the purpose of patenting and commercializing the intellectual property of UNM researchers.  The corporation and the researchers share profits from with the university from licensing the technology.  Lisa Kuuttila is the president and CEO of STC.UNM.  SK Infrared is located in the STC.UNM incubator and both Krishna and Kuuttila say the proximity helps.  "The other day Lisa came down the hall with information about a possible funding opportunity," Krisha says.  "It was convenient for both of us have a chance to talk about the opportunity without having to set up a formal meeting."
Stephen Hersee, IEEE fellow and professor of Electrical and Computer Engineering at UNM, a researcher at CHTM and has 11 issued patents, mainly in the area of Gallium Nitride materials and devices.  The intellectual property is currently licensed by Nanocrystal Corporation, Samsung, TSMC, Toshiba, NEC/Reneas, GLO AB and Hynix.  One of Hersee's students Xin Wang teamed up with CHTM alumni Petros Varangis and Lei Zhang. Varangis and Zhang founded Nanocrystal Corporation in 2007. Varangis is the President and co-founder and Zhang, is the co-founder and chief technology officer.  The company is now developing revolutionary light sources for the rapidly emerging solid state lighting industry. 
The U.S. Department of energy expects that solid-state lighting will replace all existing lighting technologies by 2025.  "The defect-free Gallium Nitride nanowire technology absolutely unique technology," Varangis says.  "The patents from the technology developed at CHTM are at the core of our business." The company has become global and in 2010 Nanocrystal Asia Inc was founded in order to interface and collaborate with LED manufacturers in Taiwan.  Nanocrystal Corporation controls the licensing rights and is pursuing collaboration with partners in SE Asia.
SK Infrared and Nanocrystal Corporation are examples of companies that began with patents at CHTM. STC.UNM has current licenses for 43 patents to 17 different established and start-up companies.  More than 10 companies have spun out from CHTM.  Former speaker of the New Mexico House of Representatives Raymond Sanchez remembers the debate over the Centers of Excellence.  "We really wanted to invest in something that could use the state universities to stimulate economic development," he says.  "We had hoped to see an immediate result of course, but sometimes it takes a long time for these things to develop."
Brueck says he has always used that initial direction for CHTM — to become an engine for economic development — as a guide.   He's pleased that faculty, staff and students have all been inventors through the years and have shared in the licensing revenues.  He says it's a win for everyone.  When businesses license a patent, the researchers receive both money and validation of the importance of their ideas.  The university receives money, and many times that technology brings jobs to New Mexico, just the way the legislature envisioned when it decided to take a gamble on universities.