UNM Civil Engineering Senior Design Course Wins National Award
August 21, 2011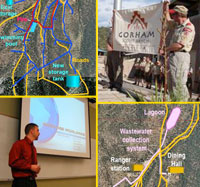 The UNM Department of Civil Engineering was recently named the $25,000 Grand Prize winner in a competition sponsored by the National Council of Examiners for Engineering and Surveying (NCEES). The award recognizes engineering programs that encourage collaboration between students and licensed professional engineers.
UNM's award was for a senior design project that teamed UNM undergraduates with professional engineer mentors to design real-world facilities, ranging from a wastewater treatment lagoon to an 80 foot pedestrian bridge, for a New Mexico Boy Scout ranch.  "This project allowed the students to explore their design interests on a real-world project, while providing a valuable community service as well," says Andrew Schuler, Associate Professor in Civil Engineering and teacher for the design course. "The project was a perfect fit with our Senior Design Course, requiring the students to come up with integrated, creative solutions and appropriate technologies given the client's needs and rugged site conditions. Continuing to receive this kind of national recognition really highlights the excellent work of our students as well as our program."
The Gorham Scout Ranch, located north of Santa Fe, approached UNM last year for help with a variety of projects needed for future growth. Schuler went on to develop the project, working with Allen Bolinger of Smith Engineering to team groups of 4-6 students with industry mentors to design a broad array of infrastructure improvements for the ranch in four key areas: drinking water and fire protection; drainage and erosion control; wastewater collection and treatment; and structural improvements, including a new pedestrian bridge.
The NCEES jury praised the course for giving students hands-on experience in the work environment of practicing professional engineers. Students performed a wide range of activities, including site assessments, engineering modeling and calculations, preparation of drawings and specifications, and construction phasing. They also received experience in writing, presenting, communicating with clients and government officials, and permitting. 

UNM CE's capstone course has a long history of involvement by industry mentors: more than 30 local firms and agencies have participated since 1993. This year's industry mentors included Allen Bolinger, Pat Conley, and Allena Muskett from Smith Engineering, and Ryan Cage from HDR, Inc.
"Our industry mentors have been with us every step of the way," said John Stormont, chair of the Civil Engineering Department. "They are crucial to the success of this program and give our students invaluable counsel in real-world sustainability projects in our state. We are thrilled and honored with this national recognition and thank our mentors for their involvement."
In addition to the $25,000 cash prize, the Civil Engineering Department will be recognized at an awards ceremony at the NCEES annual meeting in Rhode Island this August.
This is the second year in a row that UNM Civil Engineering has been recognized by NCEES – in 2010, Dr. Schuler's class project "Integration of Civil Engineering and Construction Management Education: A Multidisciplinary, Mentor-led Capstone Experience" was a $7500 award winner in the same competition.