Faculty Invited to ENGAGE Students at Wednesday Kickoff
September 26, 2011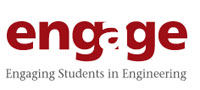 Faculty from UNM's School of Engineering recently received a grant from the NSFsponsoredENGAGE: Engaging Students in Engineering program that provides science, mathematics and engineering, faculty with opportunities to explore and implement proven strategies for student success.
UNM faculty in these STEM fields are invited to submit proposals for minigrants in return for developing activities that either involve students in seeing applications of course content to engineering problems or that foster faculty-student interaction.
To kickoff the UNM project, the Office of Support for Effective Teaching is sponsoring, "ENGAGE with Proven Pedagogical Strategies for Student Success in Engineering, Science, and Mathematics," on Wednesday, Sept. 28.  The program includes a morning workshop (which will be repeated in the afternoon) by Scott Kieffer, Department of Mechanical Engineering, York College of Pennsylvania and a luncheon presentation by Charles Fleddermann, associate dean, UNM School of Engineering.
In addition to Fledderman, UNM's ENGAGE team is led by Tariq Khraishi, John Russell, Svetlana Poroseva and Robert Greenlee, all from UNM's Mechanical Engineering Department.
Further information about the event and a link for registration by all interested STEM faculty can be found at Office of Support for Effective Teaching. Interested participants can also call (505) 2772229 or email, OSET.