New Research Facility Celebrates Grand Opening in the School of Engineering
September 1, 2011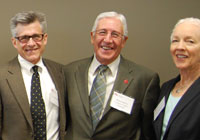 New Mexico state legislators and leaders and researchers from UNM and Sandia National Laboratories attended the grand opening of the Nanomaterials and Nanomedicine Lab, the School of Engineering's newest laboratory, on August 23. (Photo: Dr. Jeff Brinker with NM State Representatives Larry Larranaga and Gail Chasey)
The lab serves as an interdisciplinary center to fabricate and test new nanoscale materials to better understand, diagnose, and treat cancer and other diseases. The lab is an environment for integrating 'bottom-up' self-assembly of nanostructures with 'top down' lithography and atomic layer deposition, enabling the fabrication of new nanoscale materials with applications in targeted drug delivery to cancer, microelectronincs, and energy harvesting and transduction. 
Lab director C. Jeffery Brinker (above, left) is a Distinguished and Regent's Professor at UNM with joint appointments in the departments of Chemical and Nuclear Engineering, Molecular Genetics and Microbiology, and the UNM Cancer Research & Treatment Center, as well as one of two Sandia National Laboratories Fellows.
"The lab was made possible through a 2009 appropriate of $2,000,000 from the New Mexico State Legislature," said School of Engineering Dean Catalin Roman. "It was created to encourage and strengthen synergistic relationships between the UNM School of Engineering and our colleagues at the UNM Health Sciences Center (including the Schools of Medicine and Pharmacy and the Cancer Center); our colleagues in biology, chemistry and physics; Sandia National Labs; Los Alamos National Labs; and countless industry partners and collaborators."
Speakers included Dr. Cheryl Willman, Director and CEO of the UNM Cancer Center; Dr.  Chaouki Abdallah, UNM Interim Provost and professor of Electrical and Computer Engineering; Dr. Julia Fulghum, Executive Vice President for UNM Research and Economic Development; and New Mexico Representative Larry Larranaga, who championed funding for the Centennial Engineering Center and the new lab. Larranaga received his BS and MS in Civil Engineering from UNM. NM representatives Rick Miera and Gail Chasey also attended the event.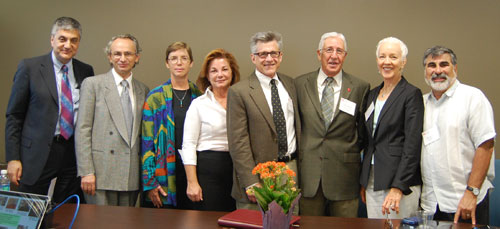 Chaouki Abdallah, Interim Provost; Catalin Roman, Dean of the School of Engineering; Julia Fulghum, Vice President for Research and Economic Development; Cheryl Willman, MD, CEO, Cancer Research and Treatment Center; Jeff Brinker, Distinguished Professor in the Chemical and Nuclear Engineering Department; NM State Representatives Larry Larranaga, Gail Chasey, and Rick Miera