School of Engineering Wins Homecoming Decorating Contest
September 26, 2011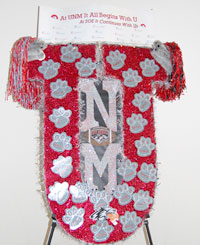 The UNM Alumni Association has announced that the School of Engineering won the first place for this year's annual Campus Decorating Contest. UNM's 87th Annual Homecoming festivities contest involved decorating a specially designed letter "U" poster incorporating the Homecoming theme, "It all begins with U."
Contestants were judged on the best use of the theme, creativity, quality of decorations, enthusiasm, and interaction and involvement with the UNM community. Thirty departments participated in the contest.
The team who collaborated on the winning poster were:
Isela Roeder of the Center for Biomedical Engineering
Stephanie Sanchez of the Center for Biomedical Engineering
Ann Trabaudo of the Center for Biomedical Engineering
Annette Torres of the Chemical and Nuclear Engineering Department
Yolanda Sanchez of the Civil Engineering Department
Elsa Castillo of Engineering Student Services
Kudos to the team for their enthusiasm, award-winning U, and excellent school spirit!
Each participating department will receive a commemorative 2011 Homecoming poster, while the top finishers will be awarded various prizes as determined by the Alumni Association.
The top-six finishers, as determined by a People's Choice vote during the Alumni Association's annual faculty/staff luncheon, were:
School of Engineering
 Psychology Department
College of Pharmacy
Dean of Students Office
Accessibility Resource Center
University Communication & Marketing
To view all of this year's participants, visit: Homecoming Decorating Contest.