UNM Hospital and Student Health Offer Flu Shot Clinics Take One for Raymond
September 26, 2011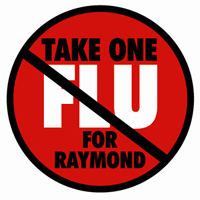 Student Health & Counseling (SHAC) and UNM Hospital are partnering to offer free flu shots to the UNM Community. The influenza vaccine will be offered to UNM students, staff and faculty in the Student Union Building atrium Tuesday-Wednesday, Sept. 27–28 and Tuesday-Wednesday, Oct. 25–26 from 10 a.m. to 2 p.m.
This year's vaccine and flu shot clinics are dedicated to the memory of UNM student Raymond Plotkin who passed away from the H1N1 virus in 2009. His parents established a scholarship in his honor. The Raymond E. Plotkin Scholarship is endowed meaning only the interest on the fund is awarded each year so that the scholarship can be awarded in perpetuity. Future donations to the fund will be added to the principle and increase the amount awarded each year.
For more background on Raymond and the perspective from his mother, Elaine Plotkin, please see the editorial in the September 26 Daily Lobo.
Additional flu shots will also be available to the public at the annual University of New Mexico's Preventive Health Days event. This year's vaccine protects against three influenza viruses that research indicates will be most common during the upcoming season. A $25 fee, cash or check, is required for individuals not participating with the Lovelace or Presbyterian Health Plans.
Donations to the "Take One for Raymond" initiative should be made payable to the UNM Foundation (re: Raymond Plotkin Scholarship) and mailed to Courtney Ganstine, UNM School of Engineering, MSC01 1140, 1 University of New Mexico, Albuquerque, NM 87131. For further information, call (505) 277‑0664 or e-mail Courtney Ganstine.
For more information about the "Take One for Raymond" initiative, flu shots and a full vaccine schedule, visit UNM Preventive Health Days.
In addition, University Hospital is offering free flu shot clinics to the public on the following dates:
September
Saturday, Sept. 24 — Primary Care Clinic
1209 University NE (9 a.m. to 1 p.m.)
Thursday, Sept. 29 — Center for Development and Disability
2300 Menaul Blvd.NE (11 a.m. to 1 p.m.)
October
Saturday, Oct. 1 — Primary Care Westside
4808 McMahon Blvd. NW (9 a.m. to 2 p.m.)
Saturday, Oct 1 — Primary Care Westside
8200 Central SE (9 a.m. to 2 p.m.)
Saturday, Oct. 8 — Primary Care SW Mesa
301 Unser Blvd. NW (9 a.m. to 2 p.m.)
Saturday, Oct. 8 — Lobocare
1101 Medical Arts Ave NE, Bldg. 4, Suite A (9 a.m. to 1 p.m.)
Saturday, Oct. 15 — Primary Care Drive-thru
2400 Tucker NE (8:30 a.m. to 5 p.m.)
Saturday, Oct. 22 — Primary Care Clinic
1209 University NE (9 a.m. to 1 p.m.)
Saturday, Oct. 22 — Haunted House-Center for Life
4700 Jefferson, Suite 100 (9 a.m. to noon)
Saturday, Oct. 29 — Primary Care NEH
7801 Academy Blvd. NE (10 a.m. to 1 p.m.)
November
Saturday, Nov. 12 — Lobocare
1101 Medical Arts Ave NE, Bldg. 4, Suite A (9 a.m. to 1 p.m.)