White House honors UNM's Yasamin Mostofi with Presidential Early Career Award
White House honors UNM's Yasamin Mostofi with Presidential Early Career Award
September 27, 2011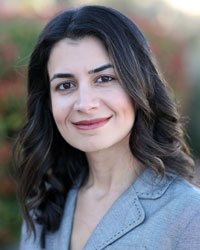 President Barack Obama announced that Dr. Yasamin Mostofi, Assistant Professor of Electrical and Computer Engineering, has been awarded the highly prestigious Presidential Early Career Award for Scientists and Engineers (PECASE).   As stated in the White House press release, the PECASE award is "the highest honor bestowed by the United States government on science and engineering professionals in the early stages of their independent research careers."
"It is inspiring to see the innovative work being done by these scientists and engineers as they ramp up their careers—careers that I know will be not only personally rewarding but also invaluable to the Nation," President Obama said.  "That so many of them are also devoting time to mentoring and other forms of community service speaks volumes about their potential for leadership, not only as scientists but as model citizens."
The PECASE award was established by President Bill Clinton in 1996 to recognize the most promising researchers in the nation in the fields of science and technology.  Researchers are nominated by 16 federal departments and agencies, who identify the most meritorious young scientists and engineers with exceptional promise for leadership at the frontiers of scientific knowledge.  The White House Office of Science and Technology Policy then selects the finalists for approval by the President.  There are 94 awardees this year and Mostofi is one of 21 researchers nominated by the National Science Foundation (NSF).
"Wireless communication, in its modern integration with the digital world, represents a major disruptive technology which changed the way we live and work." said Catalin Roman, dean of the UNM School of Engineering.  "Dr. Mostofi's research on mobile multi-agent systems that are cognizant of the dynamics of the wireless environment represents an innovative and exciting investigation likely to impact future technological development in significant ways.  This award recognizes both her important achievements to date and the promise they hold for the future.  We are delighted to have a member of our own community being honored by our President."
Mostofi received her Ph.D. in wireless communications from Stanford University in 2004, and was a postdoctoral scholar in control and dynamical systems at the California Institute of Technology from 2004 to 2006, before joining UNM.  The PECASE award citation states that she is being honored for her "groundbreaking research" on mobile sensor networks, as well as dedicated educational activities. 
"Due to the complex nature of multi-agent systems, the best solutions are not the product of research in one single area anymore," says Dr. Mostofi.  "Instead, new multi-disciplinary approaches are needed." 
This is the main motivation for her current research, which has resulted in innovative ways of integrating the communications, sensing, and control aspects of these networks.  Her work allows the agents to better understand their environment with minimal sensing, optimize the flow of information between them, and successfully operate under uncertainty and resource constraints.   She acknowledges the hard work and dedication of her students who have been working on the related projects for the past few years.
UNM Interim Provost Chaouki Abdallah noted, "Dr. Mostofi exemplifies excellence in research at UNM.  In the short time since her joining UNM, she has built a world-class research group.  She is an example of the caliber of faculty that UNM has been able to attract and hope to retain.
Mostofi and the other PECASE honorees will receive their awards in a private ceremony at the White House later this year.
Media contact: Karen Wentworth (505) 277-5627; kwent2@unm.edu