UNM School of Engineering Hosts Open House for Prospective Undergrads on Saturday, November 12, 2011
October 24, 2011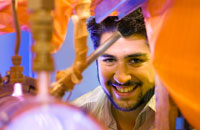 The UNM School of Engineering is showcasing career-launching academic programs and innovative research at an open house for prospective undergraduate students on UNM's main campus.
10:30 am - 12:30 pm 
Centennial Engineering Center
210 University Blvd.
High school students, transfer students and current UNM School of Engineering students and their families are invited to learn about innovative degree programs in a variety of fields within engineering and computer science.
The 11:1 undergraduate student-to-faculty ratio at the UNM School of Engineering surpasses many private universities. Engineering and computer science continue to dominate the list of top-paying majors, with average starting salaries over $60,000. The Bureau of Labor Statistics forecasts the employment outlook for engineers to expand 11% by 2018.
Open House attendees can visit state-of-the-art labs, see a variety of student projects, learn about student organizations, and meet faculty, staff, and students. An informational presentation will be given on degrees and programs, student services, financial aid, and scholarships. Refreshments will be provided. Reservations are not necessary.
The Centennial Engineering Center is at 210 University Boulevard (corner of Dr. Martin Luther King, Jr. Avenue and University). Parking is free at UNM on Saturday except in reserved spaces, handicap zones and restricted areas. Paid parking is available in the Cornell Parking Structure on Redondo just east of Stanford.
www.soe.unm.edu/open-house.html
About the UNM School of Engineering
The UNM School of Engineering is the top choice for engineering and computer science in New Mexico. The School has five academic departments and offers 9 accredited undergraduate degree programs, 12 master's degree programs, and PhD programs in 9 fields. The School's sixth department, Engineering Student Services, coordinates a general engineering program, academic advisement, scholarship support, and other programs.
The School's research expertise includes renewable energy, intelligent transportation systems, computer networks, medical diagnostics, nanomaterials, robotics, nuclear nonproliferation, artificial intelligence, and sustainable infrastructure.

UNM School of Engineering Quick Facts
World-Class Research and Academic Excellence
All undergraduate programs are accredited
Nationally recognized faculty
Highest research designation by The Carnegie Foundation - confirming UNM's world-class research, academic excellence, exceptional student body, and the highest levels of innovation, creativity and scholarship.
The combination of an urban location, proximity to national labs, and programs in medicine, law, and engineering truly sets UNM apart.
In 2010 and 2011, U.S. News & World Report ranked the Electrical Engineering graduate program 53rd in the nation.
The National Research Council ranks the Chemical Engineering program in the top 50 in the US.
Enrollment Fall 2011
Undergraduate: 1179 (35% Hispanic)
Graduate: 620 (14% Hispanic)
Number of Faculty
Tenured and tenure-track faculty: 100
Visiting and research faculty: 47
Degree Programs Offered
Undergraduate degree programs: 9
Masters programs: 12
PhD fields: 9
Research
Total annual expenditures: $31.73 million
Annual expenditures per faculty: $300,000
SOE Innovations since 1995
Patents issued: 203
Start-up companies: 23