Race cars and Hot Air Balloons
October 28, 2011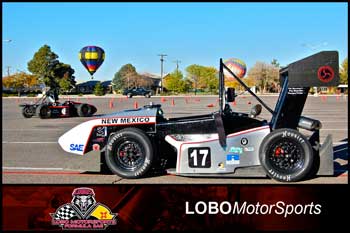 On Saturday October 22, the UNM Formula SAE team recognized its 2011 sponsors with a driving day. Sponsors were treated to driving both the 2011 and 2009 cars. It was a beautiful day for driving - all enjoyed their rides and the unexpected balloon sightings.
UNM is one of a handful of universities to offer the FSAE program as a credited course; other teams are clubs. In three semesters, UNM students learn complex theory and analysis of dynamic vehicle systems and receive hands-on experience in manufacturing procedures and materials. Then they participate in an international competition that tests research, design, manufacturing, developing, marketing, management and finances for cars engineered to a fictional customer, the weekend racer.
In 2011, the UNM LOBOMotorSports team placed 8th in design, 9th in autocross, and 12th in marketing at the international Formula SAE®competition in Fontana, CA. Read more about this year's FSAE competition and about the UNM FSAE program.