All UNM Undergraduate Engineering Programs Re-Accreditated for Six Years by ABET
December 1, 2011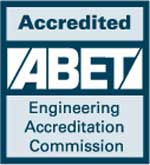 All UNM School of Engineering undergraduate programs are accredited, verifying that programs meet nationally recognized standards and that students receive a quality education. Recently, all seven engineering programs were re-accredited for six years by the Engineering Accreditation Commission of ABET, Inc.
"We're pleased with our renewed accreditation. ABET validates the high quality of our faculty and curriculum as well as our ongoing commitment to continuous improvement," said Catalin Roman, UNM School of Engineering Dean. "Students, parents, and employers can be assured that our programs meet or exceed specific criteria established nationally and that our graduates are well-prepared for their careers."   
In the recent cycle of re-accreditation, UNM School of Engineering Bachelor degree programs in Chemical Engineering, Civil Engineering, Computer Engineering, Construction Engineering, Electrical Engineering, Mechanical Engineering, and Nuclear Engineering were re-accredited for six years.
Currently 1165 undergraduates and 687 graduate students are enrolled in the School of Engineering; 35% of the undergraduates and 14% of graduate students are Hispanic. The School's 11:1 undergraduate student-to-faculty ratio surpasses many private universities.
Freshmen at UNM may be admitted directly into the SOE and take engineering and computer science courses from day one as a General Engineering student. General Engineering is administered through Engineering Student Services (ESS), a one‑stop‑shop for advisement, scholarships, skill workshops, tutoring and mentoring, and other services designed to help students succeed.
About Accreditation
ABET is the recognized accreditor of college and university programs in applied science, computing, engineering, and technology.  Accreditation is a voluntary, peer-review process that requires programs to undergo comprehensive, periodic evaluations.  The evaluations, conducted by teams of volunteer professionals working in industry, government, academe, and private practice within the ABET disciplines, focus on program curricula, faculty, facilities, institutional support, and other important areas. 
One of the key elements of ABET accreditation is the requirement that programs continuously improve the quality of education provided.  As part of this continuous improvement requirement, programs set specific, measurable goals for their students and graduates, assess their success at reaching those goals, and improve their programs based on the results of their assessment. 
ABET is a not-for-profit organization, owned and operated by its more than 25 professional and technical member societies.  An internationally respected organization with some 1,500 volunteers, ABET has set the higher-educational standards in its fields for nearly 75 years.  More information about ABET, its member societies, and the evaluation criteria used to accredit programs can be found at http://abet.org/.