Hands-On Learning in Smart Lighting for Pre-College Students at UNM Engineering
July 9, 2012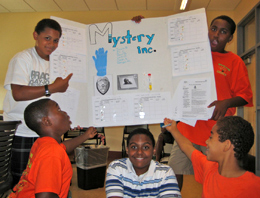 Middle and high school students in UNM's Pre-College Science and Engineering Camp will solder, sew and assemble circuits using light emitting diodes (LEDs) every afternoon from July 16 through July 20, thanks to UNM's Smart Lighting Engineering Research Center (ERC).   
UNM students will teach campers about light and color, lighting technologies, electronics, and engineering design and problem solving. 
For more information, contact Stefi Weisburd, Outreach and Education Manager at the UNM 
School of Engineering, (505) 272-7971 or (505) 277-5062.
UNM is an education and research partner of the National Science Foundation-funded Smart Ligting ERC.  Smart lighting based on LEDs promises to reduce electricity consumption, improve human health and transmit information in a variety of applications.