Bacteria Meets its Match with New Start-Up
August 24, 2012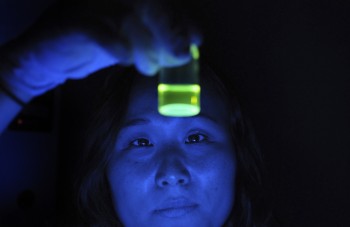 8/24/2012 – Harmful bacteria that linger on everything from hospital gowns to airplane cabins may soon meet their match thanks to Oligocide, Inc., a UNM start up. The company developed a new chemical compound using oligomers and polymers, plastic-like chemical compounds that trap and kill harmful bacteria but don't irritate human skin like other antimicrobial products.
Eunkyung Ji holds a sample of the antimicrobial chemical compound that she helped develop with a team of scientists at UNM and the University of Florida. 
Photo Credit – Pat Vasquez-Cunningham/Journal
Oligocide, which is based in Albuquerque, was co-founded by UNM Research Professor David Whitten from the Department of Chemical & Nuclear Engineering and Center for Biomedical Engineering and Professor Kirk Schanze from the Department of Chemistry at the University of Florida under a $1.6 million grant from the U.S. Department of Defense.  The new compound can be integrated into fabrics, plastics, and liquids, which can then be manufactured into a wide range of consumer and industrial products. The material has a 99.9999 bacteria kill rate and is also environmentally friendly, with low toxicity in mammals.
The Oligocide team recently signed a 20-year exclusive license agreement with STC.UNM, the University of New Mexico's technology transfer office, which owns the technology jointly with the University of Florida.
Oligocide has attracted media attention. Kevin Robinson-Avila, reporter for the Albuquerque Journal, wrote an article for the August 6, 2012 Business Outlook titled, "Bull's-Eye on Bacteria." See below: 
http://www.abqjournal.com/main/2012/08/06/biz/outlook/company-markets-unmdeveloped-nontoxic-polymer-with-potent-antimicrobial-properties.html