NM School of Engineering Ranked Fourth Best Graduate School
August 31, 2012
UNM School of Engineering Ranked Fourth Best Graduate School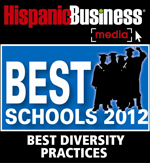 8-31-12 –  The UNM School of Engineering has been named the fourth best postgraduate engineering school in HispanicBusiness2012 Best Schools for Hispanics, an annual list of graduate programs across the U.S. that embody diversity on campus.

UNM Engineering's ranking is based on 22% Hispanic enrollment, 31% Hispanic graduation rate, strong student services, the number of Hispanic faculty, and reputation. Retention rate for Hispanics in the '10-'11 academic year was 74%. 

UNM Engineering specifically recruits, supports and mentors Hispanic students. Close to a dozen student organizations support personal and professional development for Hispanics, including the Hispanic Engineering and Science Organization (HESO), the largest engineering organization on the UNM campus. Seven mentoring programs offer a range of services including coaching, conference participation, career development and paid internships.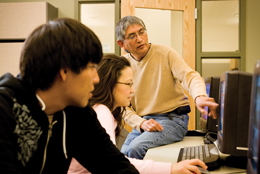 Catalin Roman, Dean of the UNM School of Engineering, is proud of the ranking, the support for Hispanics, and the School's multicultural environment.  "UNM Engineering offers services and programs to help all our students succeed and we are especially proud of our track record with Hispanic students," says Roman. "As the world demand for highly trained engineering continues to grow, graduating students who can participate in the global economy and embrace diversity is a priority of our school and a point of pride."

Each year, Hispanic Business Magazine measures and ranks the effectiveness of the nation's universities in attracting Hispanic students. For more information on the rankings visit:http://www.hispanicbusiness.com