Cheryl Brozena Receives Gerald W. May Staff Recognition Award
May 11, 2011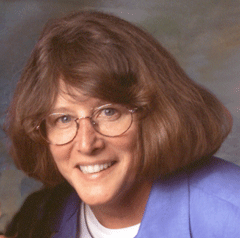 11-28-12 – Cheryl Brozena, graphic designer in the Department of Chemical and Nuclear Engineering, was one of five recipients of the prestigious 2012 Gerald W. May Staff Recognition Award.
Awardees are chosen for their exceptional service to the UNM community; positive, effective representation of UNM; initiative and innovative performance of job duties; involvement, dedication and exemplary commitment as UNM staff; and other contributions.
Other 2012 UNM recipients are Terry Coker, Office of the Medical Investigator, Guadalupe Guevara, UNM Police Department, Sandy Rodrigue, Department of American Studies and Debra Schaffer, Department of Language, Literacy & Sociocultural Studies.
Each individual will be honored in a ceremony on Thursday, Dec. 6 from 3 to 4:30 p.m. in the Bobo Room at Hodgin Hall and receive a check and a plaque.
The Staff Council also extends a personal invitation to all of the past recipients of the Gerald W. May Outstanding Staff Award to be special guests at the ceremony honoring this year's recipients. In 2010, Candyce Torres, administrative assistant for the Department of Civil Engineering, was received the Gerald W. May Staff Recognition Award.
Staff are critical to the success of our University, and the 2012 recipients are notable because they all lead by their example. To be selected for this prestigious award is truly an honor and achievement.