Luke F. Lester Named 2013 Fellow to Both IEEE and SPIE
November 29, 2012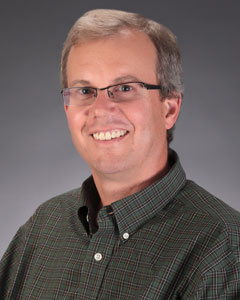 11-29-12 – UNM School of Engineering Professor Luke F. Lester was recently elected to Fellow by the IEEE (the Institute of Electrical and Electronics Engineers) and SPIE, the Society for Optics and Photonics. The grade of Fellow is the highest grade of membership in both organizations and is recognized by the technical community as a prestigious honor and an important career achievement.
Lester, Professor and Interim Chair in the Department of Electrical and Computer Engineering and the Microelectronics Endowed Chair Professor, was cited for contributions to quantum dot lasers for both organizations.
"Luke's work in quantum dot lasers is outstanding and elevation to the grade of Fellow by both IEEE and SPIE demonstrates the significance of his achievements," said Catalin Roman, dean of the UNM School of Engineering. "It is particularly impressive that he has received the status of Fellow in both organizations at the same time."
Lester's signature achievement since joining UNM has been his ground-breaking investigation of semiconductor quantum dot lasers, specifically using the "dots-in-a-well" (DWELL) technique. The DWELL approach embeds a quantum dot nanostructure within a thin-film quantum well region to improve electron capture into the dot material. Lester was the first person to describe the device physics that improves the efficiency and reduces the threshold current of the DWELL laser.
This influential work, first published in 1999 in IEEE Photonics Technology Letters, led to numerous invited lectures on quantum dot technology at international conferences throughout the world. In recognition of this important research, he and his co-authors received the Best Paper Award at Photonics West 2000 in San Jose, CA. His other awards for quantum dot research include the 2012 Harold E. Edgerton Award from the SPIE, the International Society for Optics and Photonics, in recognition of his pioneering contributions to the development, characterization and integration of quantum dot mode-locked lasers as high-speed optical sources, Dr. Lester received the 2012 Harold Edgerton Award from the SPIE.
"I feel very honored to receive these distinctions from the IEEE and SPIE and want to thank all my student advisees and collaborators who over the past twenty-five years have contributed to our exciting technological discoveries in semiconductor nanotechnology. I couldn't have done this without your help and camaraderie," said Lester.
About IEEE
The IEEE is the world's leading professional organization for advancing technology for humanity. Through its 400,000 members in 160 countries, the IEEE is a leading authority on a wide variety of areas ranging from aerospace systems, computers and telecommunications to biomedical engineering, electric power and consumer electronics.
Dedicated to the advancement of technology, the IEEE publishes 30 percent of the world's literature in the electrical and electronics engineering and computer science fields, and has developed more than 900 active industry standards.  The organization also sponsors or co-sponsors nearly 400 international technical conferences each year.  www.ieee.org.
About SPIE
SPIE, the international society for optics and photonics, was founded in 1955 to advance light-based technologies.
Serving more than 225,600 constituents from approximately 150 countries, the Society advances emerging technologies through interdisciplinary information exchange, continuing education, publications, patent precedent, and career and professional growth.
SPIE annually organizes and sponsors approximately 25 major technical forums, exhibitions, and education programs in North America, Europe, Asia, and the South Pacific. http://spie.org
 About the UNM School of Engineering
Founded in 1906, the University of New Mexico School of Engineering offers accredited engineering and computer science undergraduate degree programs and graduate programs leading to MS, ME, and PhD degrees in a research-intensive environment. An exceptionally active research faculty work in critical and cutting-edge areas, including nanotechnology, biomedical engineering, sustainable infrastructure, water resources, renewable energy, and information technology. For more information, visit engineering.unm.edu.