UNM School of Engineering Hosts Successful Open House for Prospective Undergrads
UNM School of Engineering Hosts Successful Open House for Prospective Undergrads
November 13, 2012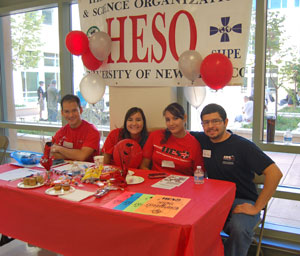 11-13-12 – Over 300 people attended the UNM School of Engineering Open House on Saturday, November 10. High school students, community college students, parents, teachers, and counselors learned about degree programs and services to help students succeed.
UNM Engineering students and faculty described their work in renewable energy, intelligent transportation systems, computer networks, medical diagnostics, nanomaterials, robotics, nuclear nonproliferation, small spacecraft design, artificial intelligence, sustainable infrastructure, and more.
Civil Engineering had a demonstration called "Why do I have to sit so long at the traffic light? ( traffic system modeling and simulation), and tours of the fluids and structures labs.
Chemical and Nuclear Engineering and the Graduate Program for Biomedical Engineering conducted tours of labs, showing attendees experiments on the fundamentals of mass and momentum and in how researchers in the Center for Biomedical Engineering solve real-world medical problems.
Computer Science held a demo of the AntBot project, where an ant-like robot finds food and calls the gang to dinner.
Electrical and Computer Engineering conducted tours of a variety of labs, students displayed their work, and student organizations had information tables.
Mechanical Engineering conducted tours of the energy, robotics, and fluids labs and showcased their award-winning, high-performance race car.
The Interdisciplinary Film and Digital Media Program demonstrated the student-designed video game Alloy, an adventure game where users build, protect, and destroy robots.
Engineering Student Services, UNM Admissions, and various student organizations
had information tables and shared resources for attendees.