UNM Partners with Albuquerque Public Schools So Students Can Learn Microsystems Technology
UNM Partners with Albuquerque Public Schools So Students Can Learn Microsystems Technology
January 10, 2013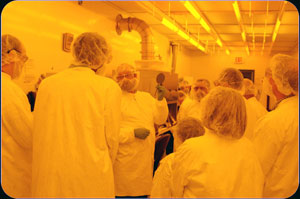 Albuquerque Public Schools will soon receive more than $200,000 through a Nation Science Foundation Advanced Technological Education grant recently awarded to UNM's Southwest Center for Microsystems Education at the UNM School of Engineering. 
Photo: Matt Pliel conducting a demonstration in the Manufacturing Training & Technology Center.
Seventy APS teachers will attend professional development enabling them to teach high school students fundamentals of MicoElectroMechanicalSystems (MEMS) technology and the science that is part of it.  The hands-on educational materials already developed will be adapted for a wide range of STEM classes including basic science, technology, physics, chemistry and biology classes, and UNM is working with APS to see that it is available in every public high school in their system.
"When students visit the clean room at UNM's Manufacturing Training and Technology Center, I tell them they could make as much as their high school teacher if they acquire a two-year associates degree in Advanced Systems Technology at CNM, and later they can continue at UNM to become engineers and make even more," says Matt Pleil, research associate professor of Mechanical Engineering and part-time faculty at CNM.  "That gets their attention since many students either don't have the desire to get a four year degree or they want to earn money sooner and have a company pick up some of the educational costs later."
The SCME team has worked with universities, community colleges and high schools since 2004 to help them educate students for a career in microsystems manufacturing.  Students who receive this education have a range of career opportunities.  Some decide to complete a two year program and move directly into research or manufacturing.  Others opt for an engineering degree at a university.
APS Superintendent Winston Brooks says, "Any experience that empowers our teachers to bring the real world into the classroom directly to our students is valued.  Exposure is everything. Students who may  never even  have considered a career in the science/technology fields are often surprised to discover their strengths  in these areas once exposed. This is a wonderful opportunity for our teachers and students."
The APS portion of the grant is part of a $3.36 million grant that will help create ways to produce a steady pipeline of potential employees for the high tech, microsystems industry nationwide.  The students will learn about the technician and engineering career pathways while realizing the importance of learning science, technology, engineering and mathematical principles as they apply them to hands-on activities in the classroom.
MEMS devices are everywhere. A MEMS device tells your smart phone which way is up, whether you are holding it vertically or horizontally and automatically adjusts the picture.  MEMS devices are inside your smart phone, tablet and gaming controls.  There are 50 to 100 MEMS devices in your car, measuring everything from tire pressure and fluids to making sure your airbag works when it is needed.
SCME and UNM are working with North Dakota State College of Science, the University of South Florida, ASK Academy in Albuquerque, Ivy Tech in Indiana – Ft. Wayne Campus and Central New Mexico Community College as part of this grant.  They also continue their partnerships with microsystems industries and colleges across the nation as well as reaching out to other colleges located near high-tech regions. 
SCME has a wide range of classroom-ready hands-on teaching kits, reading materials and streaming lectures, webinars and animations that school districts can download or purchase at the Southwest Center for Microsystems Education website.  APS teachers may begin using these materials as early as fall 2013.
A number of local companies hire students educated in MEMS and advanced systems technologies including Emcore, HT Micro, Thunder Scientific, CVI, 3D Glass, Life Biosciences, Intel and Sandia National Laboratories.

Media contact: Karen Wentworth (505) 277‑5627; kwent2@unm.edu