Huning Family Supports Parkinson?s Disease Research at UNM
February 25, 2013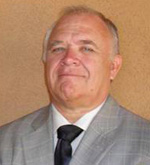 Dr. Eva Chi has devoted her career to studying the proteins that cause neurodegenerative disorders such as Alzheimer's disease and Parkinson's disease. Now, thanks to the generosity of a prominent local family, her lab is closer to discovering a cure for these diseases.
Parkinson's disease is caused by the buildup of protein within brain cells, causing tremors, loss of balance, and difficulty moving. For the Huning family of Los Lunas, the fight against this disease is personal; it has affected the entire family. Family members have pledged $50,000 per year for the next three years to support Dr. Chi's research on these proteins.
Louis Huning, a former mayor of Los Lunas, says the fight for a cure is a gift for future generations.
Louis Huning, a former mayor of Los Lunas, is among the family members who have been affected by this disease. He says that fight for a cure is a gift for future generations. "We're just about to where there will be a cure for Parkinson's. It would be a shame to not find that link in solving this problem because of money," he says.
"Our family has suffered through two generations of early onset Parkinson's disease," says Margaret Bell, a local realtor and Huning family member. "Our goal with this research is the development of a diagnostic test that will allow for prevention so that the next generation of our family and other families will not be affected by this terrible disease."
Part of Dr. Chi's research is focused on identifying the proteins that cause Parkinson's disease, and designing a method to detect their toxicity. "This knowledge will not only help us to better understand how protein aggregates kill brain cells, but will also be used to screen for potential drug compounds that can inhibit toxicity," she says.
Initiating a new research project is often the tallest hurdle for a new investigator. The Catch-22 in scientific research is that investigators must show good results in preliminary data to get funding for their research. Yet it takes seed funding to conduct the initial research to produce that preliminary data.
Thanks to the Hunings' generosity, Dr. Chi has cleared that first hurdle. She has added a postdoctoral researcher to her staff and ramped up this initial phase of research.
Once those preliminary results are in hand, Dr. Chi will be able to apply for funding from federal agencies such as the National Institutes of Health and the National Science Foundation. Both agencies require substantial preliminary data of proposed research.