Matt Raymer: Student Athlete, Excellent Scholar
April 30, 2013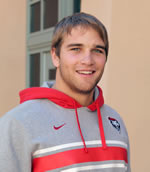 Throughout his undergraduate career, Matt Raymer has balanced the challenges of studying engineering with playing Lobo football. This May, he will graduate with a 3.5 cumulative grade-point average and earn a Bachelor of Science degree in Civil Engineering from UNM. Matt has excelled not only academically but in time management and leadership skills while being a student athlete. 
Matt chose civil engineering because of the design and hands-on aspects of the field. He is especially interested in water, infrastructure, and materials and will pursue a graduate degree in civil engineering at UNM this fall. He recently received a post graduate scholarship from the UNM Bookstore.
"Matt is a terrific student and a pleasure to have in class," says Regents' Professor of Civil Engineering Bruce Thomson. "He is always engaged in class discussions and can be counted on to ask penetrating and insightful questions."

Matt started playing Lobo football as a walk-on (without a scholarship). He improved every season and became an integral member of the defense in 2012. He was such a valuable player that coach Bob Davie was quoted as saying, "I can win with a team full of Matt Raymers." 
In 2012, Matt was nominated for the Bulworth Award, which goes to the nation's best player who began his career as a walk-on. He received the Chuck Cummings Most Inspirational Award, the Clyde Hill Most Improved Player Award, and the New Mexico Man award.
For the UNM School of Engineering Spring 2013 graduation ceremony, Matt was selected as the undergraduate speaker. He will share insights and observations at the school's own ceremony to honor graduates in the presence of their family and friends.