Civil Engineering PhD Candidate Rashadul Islam Receives Award for Engineering Conference Paper
April 15, 2013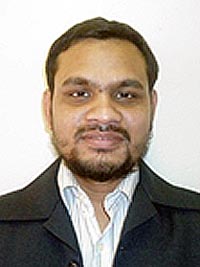 Rashadul Islam, a UNM Civil Engineering Ph.D. candidate, has been honored for presenting a conference paper during the 2013 ASCE Texas Section Centennial Spring Conference. His paper, "Evaluating Moduli of Base and Subbase Layer in Flexible Pavement," received second place in the conference competition and carried a $200 award.
Islam's research focuses on the mechanics of a field instrumented pavement section (on I-40) where he compares field pavement behavior with small scale laboratory behavior. He is a member of Associate Professor of Civil Engineering and Regent's Lecturer Rafiqul Tarefder's research group. 
"His recent papers published and/or submitted in archival journals and conferences like the one awarded provide a testimony of the innovative and original ideas Rashadul possesses and the systematic ways he follows to bring such ideas to published work," Tarefder said. "Rashad is one of the most focused and brilliant researchers I have ever advised."
Islam received his B.C. degree in civil engineering from Bangladesh University of Engineering and Technology in 2007 and his M.S. from Technical University of Catalonia, Spain in 2008. During his time at UNM Islam has published in seven journals and presented 11 conference papers.