UNM Celebrates Solar Panel Installation on Electrical and Computer Engineering Building
UNM Celebrates Solar Panel Installation on Electrical and Computer Engineering Building
April 30, 2013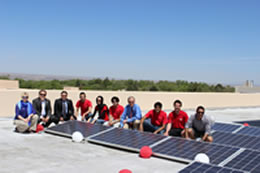 The UNM School of Engineering is celebrating completion of a new solar photovoltaic panel system on the roof of the Electrical and Computer Engineering building with balloons and a ribbon cutting.  Assistant Professor of ECE Olga Lavrova is leading the project which will be operated by graduate students as part of a smartgrid system.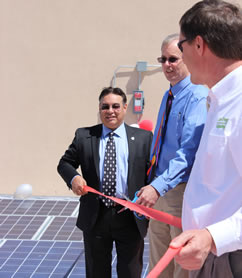 The ECE building is a particularly heavy user of electricity on campus because of the numerous labs with complex electrical requirements.  This installation will provide about 3 percent of the power used by the building.  Lavrova says the solar photovoltaics system panel installation will be connected with the solar thermal system on the roof of the Mechanical Engineering building so that both systems can be operated in unison and lead to even greater reduction in power consumption.  Together the students and faculty will operate the system for real time demand response and load management.  These functionalities and inter-operability are one of the first steps UNM is taking towards making the main campus into a Smart Campus, part of the Smart Grid.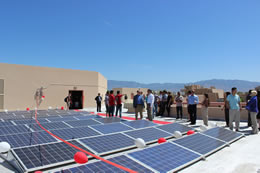 Lavrova says ten to fifteen students on the power and energy academic tract in ECE will be involved in running the system.  Her biggest job she says is to keep the students in school.  Many of the students involved in the project have already been hired by local companies.
The system was installed by Sacred Power Corporation which donated labor and materials.  The photovoltaic panels were a donation from Schott Solar.  The system is expected to produce 32 megawatts of power over the course of a year.  This is the fifth building on campus to use solar energy for part of its electrical power.