UNM Engineering Alumnus Jim McNally Elected SPIE Fellow
April 2, 2013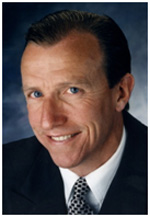 Jim McNally ('86 PhD), Albuquerque, Applied Technology Associates, was recognized as a Fellow of the SPIE for achievements in entrepreneurship that led to innovations in spectroscopy-based medical diagnostics. 
Dr. McNally has made significant contributions to entrepreneurship that has advanced the development and commercialization of noninvasive alcohol testing products as the founding CEO and Chairman of TruTouch Technologies, Inc. recognized by TIMEmagazine as an Invention of the Year in 2006. 
SPIE is the international society for optics and photonics serving nearly 225,000 constituents from approximately 150 countries.  SPIE honored 69 new Fellows this year. Fellows are Members of distinction who have made significant scientific and technical contributions in the multidisciplinary fields of optics, photonics, and imaging. They are honored for their technical achievement and for their service to the general optics community.
Dr. McNally received his Ph.D. in Optical Sciences from the University of New Mexico and is the Chairman of the New Mexico Optics Industry Association.