UNM Searching for Companies to Mentor Engineering Interns
April 15, 2013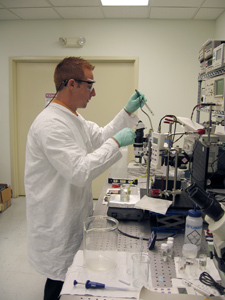 The UNM School of Engineering seeks companies that can use undergraduate engineering students as interns this summer. UNM will pay half their salary, using money from a National Science Foundation grant and the company will pay the other half.
Steven Wolf, intern, summer 2012.
Principal Investigator on the grant is Associate Professor of Mechanical Engineering Tariq Khraishi. 
"These are students with some engineering courses on their resume and they are ready to put their skills to use in a real world environment," Khraishi said. 
Several faculty members actively mentor the students as part of the grant activities.
Last summer AUI Inc., Fiore Industries, Los Alamos National Laboratory, Natural Systems International, the Office of the State Engineer, COSMIAC, POD Associates, RIEtech Global, LLC, Techflow Scientific, Trane/Hussman and UNIRAC, Inc. all hosted interns.
The students completed a wide range of activities. Two students designed a built a six port adaptor for COSMIAC that could be used to hold and carry six individual small satellites.  
Others developed launch and recovery capability for helium balloons to carry instruments into the ionosphere.  Another student worked with a mentor on water desalinization and others worked with a LANL group constructing a system to cluster computers.
Fiore Industries 2012 summer intern Aaron Griego, a senior in electrical engineering, worked on an industrial robot arm, replacing parts and solving software programs.  "It was hands-on experience solving problems not found in a book or classroom," reports Griego. "At job fairs, the big companies are the ones you see recruiting but I really enjoyed getting the experience of working for a smaller local company."
Companies interested in hiring an engineering intern can contact Sue Buffington at sbuff@unm.edu for more information.