Engineering Student Adapts, Finds Way to Graduate
May 14, 2013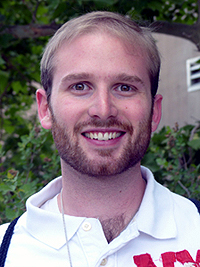 The study of engineering is finding ways to solve problems, which is ironic because UNM Chemical Engineering graduate Zachariah Harris has had to find ways to work with some unusual physical problems on his way to graduation. "I had to drop out of high school because I thought I was permanently blind," he said.
The blindness was the result of an accident on the basketball court. Harris was pursuing a rebound and as he descended another player who was jumping up hit Harris's jaw with the top of his head.  The collision was so severe it knocked particles loose inside his eyes, causing the temporary blindness. The particles eventually clumped together to form large floaters in his eyes and he slowly regained much of his eyesight. Before the accident he had been on track to be class valedictorian at Los Lunas High School, but he had to give that up.
The basketball accident aggravated another injury Harris received at summer camp when he was 13 and was strangled by another camper. That caused soft tissue and nerve damage in his neck and he must work out regularly to maintain strength and hold the injuries in check. His brother Ethan, an exercise science major, designs workouts that help him isolate the correct muscles without engaging the injured areas.
"These things tested my life and my faith and my general outlook, but you have to keep going because life is a river," Harris said. "You either swim with it or you get dragged, and you choose one or the other."
Harris tried to swim with it by going to Texas A&M for his freshman year, but the move away from his physical therapy support structure resulted in a physical collapse. He readjusted, and came to UNM, which was closer to home, but each semester was a marathon.
For the last year and a half Harris' health has been stable. Before that, "I would lose 20 to 30 pounds every semester in weight," Harris said. "And then I would regain it over Christmas break or summer, as much as I could and then attack the next semester and lose weight and it was like a death spiral after every semester. It was horrible. I can truly say that most of my college education was pure torture. And almost nobody knew that, because how do you bring it up in casual conversation? I'm in permanent pain and how are you?"
Harris says part of his problem was self-imposed. He didn't want people to see him or treat him differently because he has a visual disability and is in pain. He wanted to be able to make the grade as a normal student. But his problem is severe enough for him to fit UNM's disability criteria and to require some special services such extra time to complete tests. He also records lectures and listens to them while he's driving to catch points he might have missed in class. Harris says applying for disability services was the most humbling experience of his life because he wanted to complete his degree as a normal student.
Harris says he's adjusted to his physical problems and he's now enrolled in graduate school. An undergraduate research experience last summer in Wisconsin doing genetic engineering, and professors who work with him at UNM, have inspired Harris to go into biomedical engineering. He'll be back at UNM this fall looking for a research topic that will allow him to help people in some lasting way.
Media Contact: Karen Wentworth (505) 277‑5627; email: kwent2@unm.edu