School of Engineering Spring 2013 Convocation Held
May 13, 2013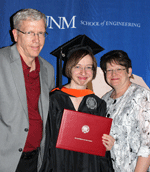 Several hundred family and friends gathered at the Kiva Auditorium in the Albuquerque Convention Center on Friday, May 13 to congratulate School of Engineering graduates at the Spring 2013 Convocation. 217 students received degrees from UNM Engineering this spring: 127 Bachelors, 64 Master's, and 26 Ph.D. degrees.
The 2013 UNM Engineering graduates included:
34 students graduating from the Chemical and Nuclear Engineering Department
32 graduates from Civil Engineering
28 from Computer Science
55 from Electrical and Computer Engineering
48 from Mechanical Engineering
20 from Interdisciplinary Programs
In photo above, Emmalee Jones, who received a M.S. in Nanoscience and Microsystems, celebrates with her parents.
---
Speakers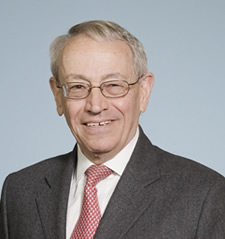 The keynote speech was given by Stephen C. Mitchell, P.E., President, Knight Group LLC.
Mitchell received two degrees at UNM Engineering: a B.S. in Civil Engineering in 1966 and an M.S. in Civil Engineering in 1968. He received an M.B.A. from the University of Chicago in 1974.
Mitchell is a professional engineer with over 45 years in the design and construction industry. He is the President of Knight Group LLC, a Chicago-based privately held firm involved in the start-up, development and management of new ventures.
Mr. Mitchell has been very active in civic and professional organizations, including chairing the Civil Engineering Research Foundation headquartered in Washington, DC. He was an active member of the American Society for Civil Engineers and served on the Board of Visitors for the UNM School of Engineering and on the UNM Foundation Board of Trustees.
Matthew Kerry Raymer
B.S. Civil Engineering, '13
Matts gave the Undergraduate Student Speech.
As a student athlete, Matt Raymer excelled not only academically but in time management and leadership skills while playing Lobo football.
Matt started playing Lobo football as a walk-on (without a scholarship). He improved every season and became an integral member of the defense in 2012. In 2012, Matt was nominated for the Bulworth Award, which goes to the nation's best player who began his career as a walk-on. He received the Chuck Cummings Most Inspirational Award, the Clyde Hill Most Improved Player Award, and the New Mexico Man award.
Matt earned a 3.5 cumulative grade-point average in his undergraduate program. He likes the design and hands-on aspects of civil engineering and is going to pursue a graduate degree in civil engineering at UNM this fall.
Diane A. Oyen
Ph.D., Computer Science, '13
Diane gave the Graduate Student Speech.
After receiving her B.S. degree in Electrical and Computer Engineering from Carnegie Mellon University in 1998, Diane worked in industry designing computer chips for three years.
When she and her husband moved to Albuquerque, Diane taught high school math for four years and then began graduate school at UNM.
While pursuing her Ph.D., Diane did research at the Mind Research Network modeling networks in the brain and at NEC Laboratories modeling protein networks. She studied how networks change as people learn, blood proteins in cancer patients, and patterns in functional MRIs for people with schizophrenia. She thoroughly enjoyed the research and the potential to help people by diagnosing disease. "I get to do brain research even though I'm not a neuroscientist and haven't taken college-level biology," she says.
This fall, Diane will work for Los Alamos National Laboratories doing image analysis from satellites and microscopes to detect particular sets of elements in materials.
Breece Award Winners
The George E. Breece Award was established in 1921 to honor the UNM School of Engineering senior with the highest grade point average from each graduating class. The recipients of this award consistently have grade point averages higher than 4.0, reflecting a majority of A+ grades throughout their undergraduate courses.
Mitchell Conner Malone, B.S., Electrical Engineering, '13
Mark Sinclair Montoya, B.S., Computer Science, '13
---
Program
The Spring 2013 UNM Engineering Convocation Program (PDF) includes information about the speakers, the Platform Party, and the list of graduates. Congratulations, graduates!
About the School of Engineering Convocation Ceremony
The Convocation is the School's own ceremony specifically to honor graduates, in the presence of their family and friends. Family and friends are cordially invited to attend. 
The ceremony opens with a formal processional led by the School's Deans, Department Chairs, visiting dignitaries, faculty, and graduating students. Short remarks are given by the Dean and others, followed by the keynote speaker and student speakers.
After the speakers address the audience, each graduating student is individually recognized on stage. Bachelors candidates are called by name and greeted by the Dean and their departmental faculty and staff as they exit the stage. Masters and doctoral students are greeted by the Dean and his/her Department Chair or Program Director, and then hooded by his/her major professor or designee.