UNM Engineering Student Cofounds Company with A Unique Solution to Recharging Cell Phones
UNM Engineering Student Cofounds Company with A Unique Solution to Recharging Cell Phones
May 21, 2013
UNM Engineering Student M. Santiago Rojas-Carbonell and Joe Doherty founded a company called Batterade, LLC after developing a novel technology with the ability to charge cell phones in developing countries, where access to electricity is a problem and cell phone use is critical.  Batterade, LLC has signed an option agreement with STC.UNM for the UNM technology.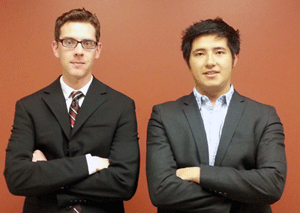 M. Santiago Rojas-Carbonell, Chief Executive Officer, and Joe Doherty, Chief Operating Officer
Rojas-Carbonell, Chief Executive Officer, is working on a Ph.D. in Chemical Engineering and has just graduated with the professional science masters in Nanoscience and Microsystem Engineering.  As a part of his Ph.D. work, he is a research at the Center for Emerging Energy Technologies (CEET), the UNM research group that developed the Batterade technology.
Doherty, Chief Operating Officer, is working on an MBA in Management in Technology at UNM's Anderson School of Management.  The students created a business plan for the STC technology and entered it in Anderson's Technology Business Plan Competition & Entrepreneurial Challenge.  The fourteen competing teams presented before experienced venture capitalists and angel investors, who selected three prize winning proposals.  Batterade received second place and funding of $10,000.
STC CEO and Chief Economic Development Officer Lisa Kuuttila is pleased to have the company developing the technology for the international market.  "STC is very happy to have two entrepreneurs who are passionate about taking this technology and creating a product that could be of enormous benefit to regions such as Sub-Saharan Africa where 71 percent of the 800 million residents are without access to any electrical grids."
The technology, developed by fuel-cell expert Plamen Atanassov, Scott Sibbett and co-inventors from the Department of Chemical & Nuclear Engineering and CEET, is a new kind of paper-based bio fuel cell that uses an enzyme-based catalyst to generate electricity out of sugar.  When the device is dipped in sugary water, it can generate enough electricity to recharge a cell phone overnight.
The company estimates that it will be able to sell its product for as little as $3, which makes it particularly attractive for many developing markets.  "The telecommunications market is booming in Africa," commented Rojas-Carbonell.  "People use cellphones not just for communication, but also for financial transactions and as a news source.  However, the electric grid is not keeping pace.  This creates a great need for an affordable off-grid charging technology.  We see a huge opportunity with Batterade and are thrilled to be working with STC.UNM and CEET to make this vision a reality."
Since the technology has been validated in the laboratory, next steps for Batterade will be to create a prototype device for beta testing with customers in Africa and develop a manufacturing strategy.  The company plans to use a micro-franchising business model that will allow local entrepreneurs to purchase the product and resell it in their villages.
Media Contact: Denise Bissell (505) 272‑7310; email dbissell@stc.unm.edu