Off to the Races: LoboMotorsports Team Goes to World's Largest Automotive Competition
Off to the Races: LoboMotorsports Team Goes to World's Largest Automotive Competition
June 12, 2013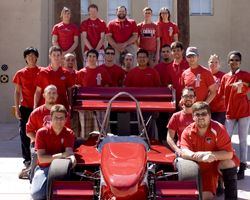 Students in the UNM LoboMotorsportsprogram are headed to Lincoln, NE on Tuesday, June 18 to compete with their sleek formula-style racing car in the world's largest automotive competition, the Formula SAE, organized by the Society of Automotive Engineers.
The Formula SAE will test the students' hands-on engineering skills as well as the teamwork, leadership, marketing and decision-making skills that they've developed through the LoboMotorsports program, a three-semester credited course designed by Mechanical Engineering Professor John Russell.
In the LoboMotorsports program, students learn all aspects of being on an engineering business design team, including research, design, manufacturing, testing, developing, marketing, management, and fundraising. 
UNM is one of a handful of universities to offer the program as a credited course; other teams may use their senior design course for individual credit but focus the overall activity as a club.
"There are no problems at the end of the chapter and no answers in the back of the book," says Kirby Anne Witte, project manager for the 2013 team. "We must supply our own questions to fuel the design of many subsystems that flow together to create a vehicle that must not only drive, but also perform and compete."
These skills are as valuable for the competition as they are for careers. Many LoboMotorsportsalums get job offers before graduating from companies such as Ford, GM, Chrysler, Honda, Sandia National Laboratories, Boeing, and more. A large number go on to the best graduate schools in the country.
Highlights of the 2013 LoboMotorsports car
The 2013 car runs a continuously variable transmission (CVT); no shifting is required by the driver. The team's car features an infinite range of gear ratios because the CVT pulleys expand or contract to keep the engine at maximum power all the time.
The team chose to use a snowmobile engine -- a 499 cc, two cylinder Yamaha Genesis engine from the Phazer snow mobile because it's compatible with the CVT.
All of the aerodynamics are designed and manufactured by students. Star-CCM+ (The same software used by Formula 1 teams) is used to analyze different designs in order to create downforce without also creating too much drag. The carbon fiber components are made using vacuum bagging techniques. 
More about the program
Dozens of sponsors contribute to the program financially and with in-kind donations, including equipment, services, and technical support. Sandia National Labs has been a sponsor of the program for five years, has successfully placed FSAE program as interns and in all positions within the organization.
The LoboMotorsports program was started in 1997. Dr. Russell and the team have participated in many of the competitions, both in Lincoln and on the West Coast. Russell says, "Each team builds on successes from previous student achievements over the past 15 years."
For more information about the LoboMotorSports program, go to http://fsae.unm.edu/index.html or contact Dr. John J. Russell, jrussel@unm.edu; 505-277-1345 or 505-363-9435.