Summer Research Experience for Teachers Helps Students During the School Year
July 16, 2013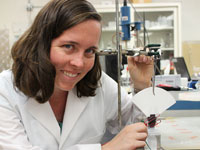 Chelsea Ketchum, a 6th Grade Science Teacher at Tony Hillerman Middle School, is participating in a summer Research Experience for Teachers (RET) program at UNM Engineering. Funded by a three-year grant from the National Science Foundation, the RET brings elementary, middle, and high school teachers to UNM for a six-week summer program where they partner with faculty on ERC research projects.
Over the summer, Ketchum has been making paper-based fuel cells powered by biochemical reactions of a glucose solution. Her next step will be to develop a kit to enable students to experiment with these fuel cells to maximize the output to power different items which are normally run on batteries.
The RET is part of a number of UNM Engineering outreach activities, including lab tours, assistance with science fairs, and classroom visits.