UNM Celebrates Former Senator Jeff Bingaman's Support with Symposium on Energy, Resources, and Policy
UNM Celebrates Former Senator Jeff Bingaman's Support with Symposium on Energy, Resources, and Policy
July 19, 2013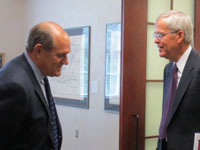 On Thursday, July 11, 2013, Senator Jeff Bingaman (retired) was on campus at the University of New Mexico.  To honor the Senator and thank him for his years of support of research at UNM, a Symposium was held in his honor. which concluded with a signing ceremony in the afternoon when he donated his papers (see UNM article about the donation).
Pictured is former U.S. Senator Jeff Bingaman (r) with UNM President Robert Frank.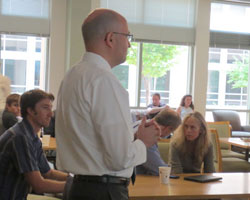 The theme of Bingaman Day was Energy, Resources, and Policy.  This Symposium, organized by Vice President for Research Mike Dougher and ALA Fellow Edl Schamiloglu (assigned to the Office of the Provost), provided the Senator with an overview of the breadth of work in the energy science, technology, and policy areas currently occurring at UNM. 
Prof. Edl Schamiloglu addresses attendees.
Energy technology and science, comprising ongoing research in the School of Engineering, was the focus of the morning session held in Stamms Commons, Centennial Science and Engineering Center.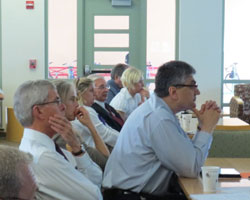 The format of the symposium was brief presentations, followed by interactive discussions between graduate students, faculty, and the Senator. 
The morning portion of the symposium concluded with tours of Solar Facilities in the School of Engineering, and the Plasma Fusion Laboratory in the basement of the ECE Building. 


Senator Jeff Bingaman and UNM Provost Chaouki Abdallah listen to presentations.
The presentations are listed below:
08:30 - 08:45                    Welcome (Provost Abdallah) and Overview of the Symposium
08:30 - 11:45                    Overviews of Energy Research, School of Engineering
08:45 – 09:15              Andrea Mammoli (Presented by Olga Lavrova) 
"Integrating Renewables into the Power Grid: Balancing Generation,  Loads and Storage"
09:15 – 09:45              Olga Lavrova
"Smarter Devices and Electronics for Smart  Grids"

09:45 – 10:15              Plamen Atanasov
"Turning the Tides: New Mexico-born Materials for Japanese Cars"

10:15 – 10:45              Mark Gilmore
"Fusion Energy: Global Outlook and UNM Contributions"- Devices and Systems for Our Energy Future"
11:15 – 11:45              Tours of Solar (ECE Rooftop, Olga Lavrova) and Plasma Fusion Laboratory (L242 ECE Building, Mark Gilmore)