UNM School of Engineering Announces New Chair for the Department of Electrical and Computer Engineering
UNM School of Engineering Announces New Chair for the Department of Electrical and Computer Engineering
July 22, 2013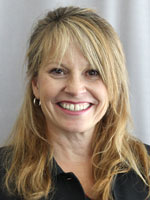 The UNM School of Engineering is pleased to announce that Jane Lehr will be joining the Department of Electrical and Computer Engineering as professor and chair on August 1, 2013. Lehr is an internationally respected researcher with a record of marked distinction and significant impact in the areas of pulsed power science and technology. She brings a commitment to education, extensive experience in administration and leadership, and well-honed interpersonal skills. Lehr received her Ph.D. in 1996 in Electrical Engineering from New York University-Polytechnic.
"I'm delighted to see Jane join the faculty and assume a position of leadership in the School," says UNM Engineering Dean Catalin Roman.   "She brings new ideas and a management style likely to change the culture in the department and to further enhance the spirit of collaboration that is a defining trait of our School," says Roman. "Her commitment to student success complements her passion for research and her desire to increase the visibility of an already excellent department."
Lehr comes to UNM from Sandia National Laboratories, where she has been a technical staff member since 2002.  She spent the first ten years in the Pulsed Power Sciences Center and the last year in the Science, Technology and Engineering Integration Department using data driven strategic studies to support decision making in the enterprise.
Lehr is an IEEE Fellow and the recipient of the Air Force Basic Research Award and the IEEE Region 6 Award for Leadership of the Albuquerque Chapter. She was named an Outstanding Woman of New Mexico and has been inducted into the New Mexico Hall of Fame.
An active and well-respected member of the electrical and computer engineering community, Lehr is past president of the IEEE Nuclear and Plasma Sciences Society. She served as an associate editor for the IEEE Transactions on Dielectrics and Electrical Insulation, guest editor for the IEEE Transactions on Plasma Science and three years on the IEEE Technical Activities Board Publications Committee.  Currently, she is the chair of the IEEE NPSS Fellow Evaluation Committee.  She also serves on numerous national advisory committees.
"I am truly excited about joining and leading the exceptional Electrical and Computer Engineering faculty at the University of New Mexico," says Lehr. "I look forward to influencing the next generations of UNM engineers, increasing the visibility of the excellent research posture of the department, and using innovation to help drive the New Mexico economy."