High-schoolers build sensors, test them at Sandia crest
June 19, 2017 - By Kim Delker
About 30 local high school students visited The University of New Mexico School of Engineering on Saturday (June 17) to work with faculty and graduate students to learn how to build low-cost sensors, then put them to the test measuring the natural frequency, or sway, of a car on the Sandia Peak Tramway.
The students met at Centennial Engineering Center, Room 1028, to assemble fairly simple low-cost sensors, then traveled across town to the Sandia Peak Tramway, where the students took a tram ride with their devices, collecting data along the way. The effort is being led by Fernando Moreu, assistant professor of civil engineering, whose research specialty is low-cost sensors.
The students built 15 smart sensors that collect accelerations and tilt of structures and used them in the field to collect data. Each sensor consisted of an Arduino microcontroller, a tilt meter, an accelerometer and other electronic components that can be put together for about $40.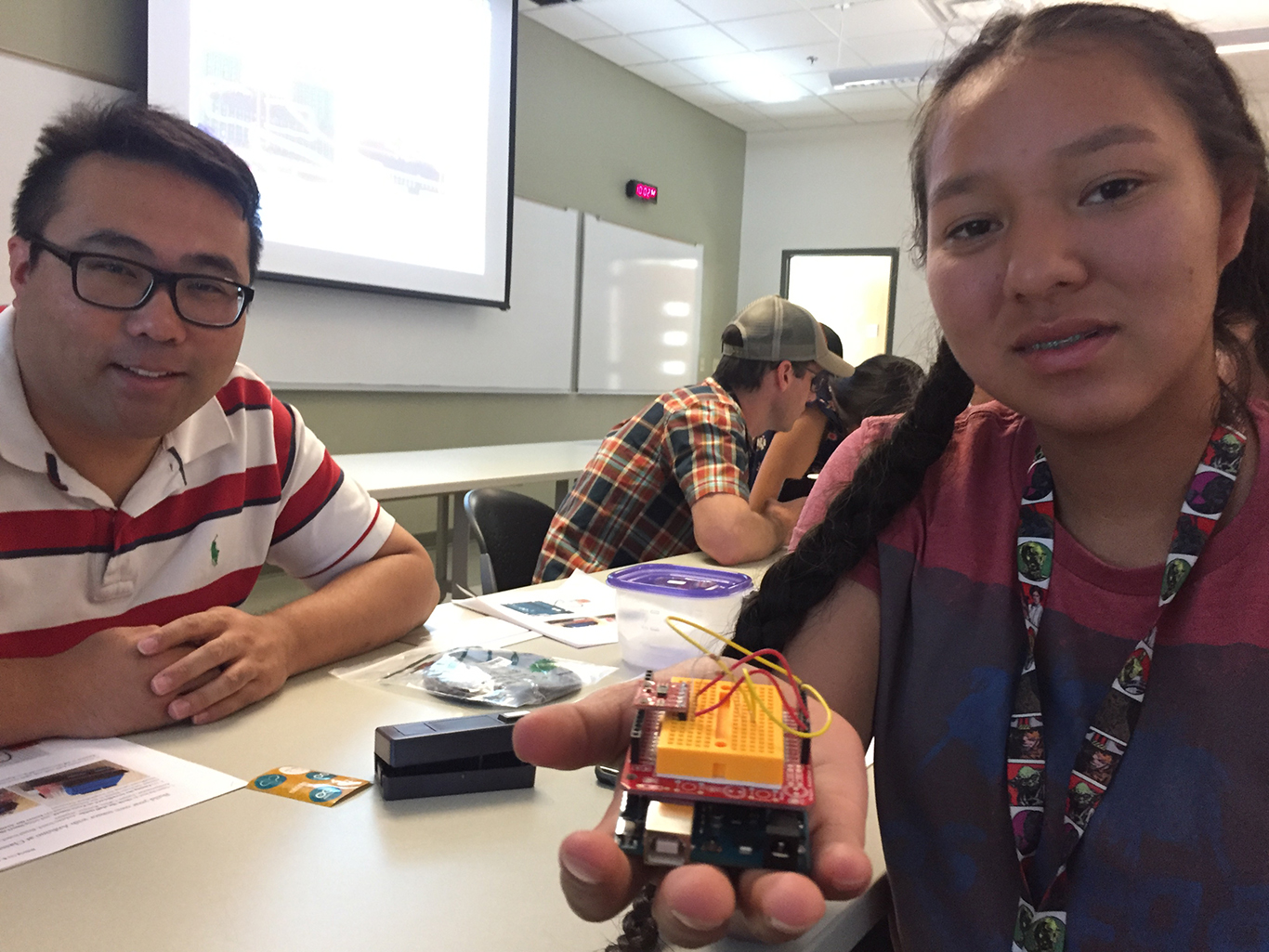 The data was collected in real time and will be able to be analyzed by the students.
This activity is a part of UNM's annual Summer Transportation Institute, organized by the School of Engineering.
Moreu said collecting such data, such as on bridges or railroads, can give valuable information about how much these structures move. Although isolated data may not be of much use, he said the ability to track data over a period of time to measure changes could be of value.
"We're really domesticating sensors," he said. "If a person tracks the daily movement of a bridge over time and sees that it changes significantly over time, the ability to quantify that information could be helpful in calling attention structures that may potentially be unsafe or at risk."
Moreu is passionate about the issue of low-cost sensors because he said that sensors can be valuable on a widespread basis, from professional civil engineers to laypeople, and the cost does not have to be prohibitive.
"Young people are very open to the idea of the use of sensors for a lot of uses because it's become more and more common, but it's not as accepted in industry," he said. "The hope is to use this training as a pilot for future trainings with practitioners to show them that they, too, can use these devices and the cost should not be a barrier.
He cites the 2017 Infrastructure Report Card, issue by the American Society of Civil Engineers, as why sensors would be useful on a widespread basis. It shows that the condition of many of our nation's roads, bridges, dams and railways is in poor condition.
One of the goals with this effort is to get students interested in engineering by creating a fairly simple, fun and productive activity, said Moreu.
"Not all of the students will be interested in pursuing engineering, but maybe a handful will, and maybe they also will be able to begin working with a UNM mentor or professor to engage in research, even in high school," he said.
Although Moreu is a civil engineer, this activity encompasses a broad range of engineering skills, from civil engineering, electrical engineering, computer engineering to mechanical engineering.