Heinrich visits School of Engineering directed energy labs
August 23, 2017 - By Kim Delker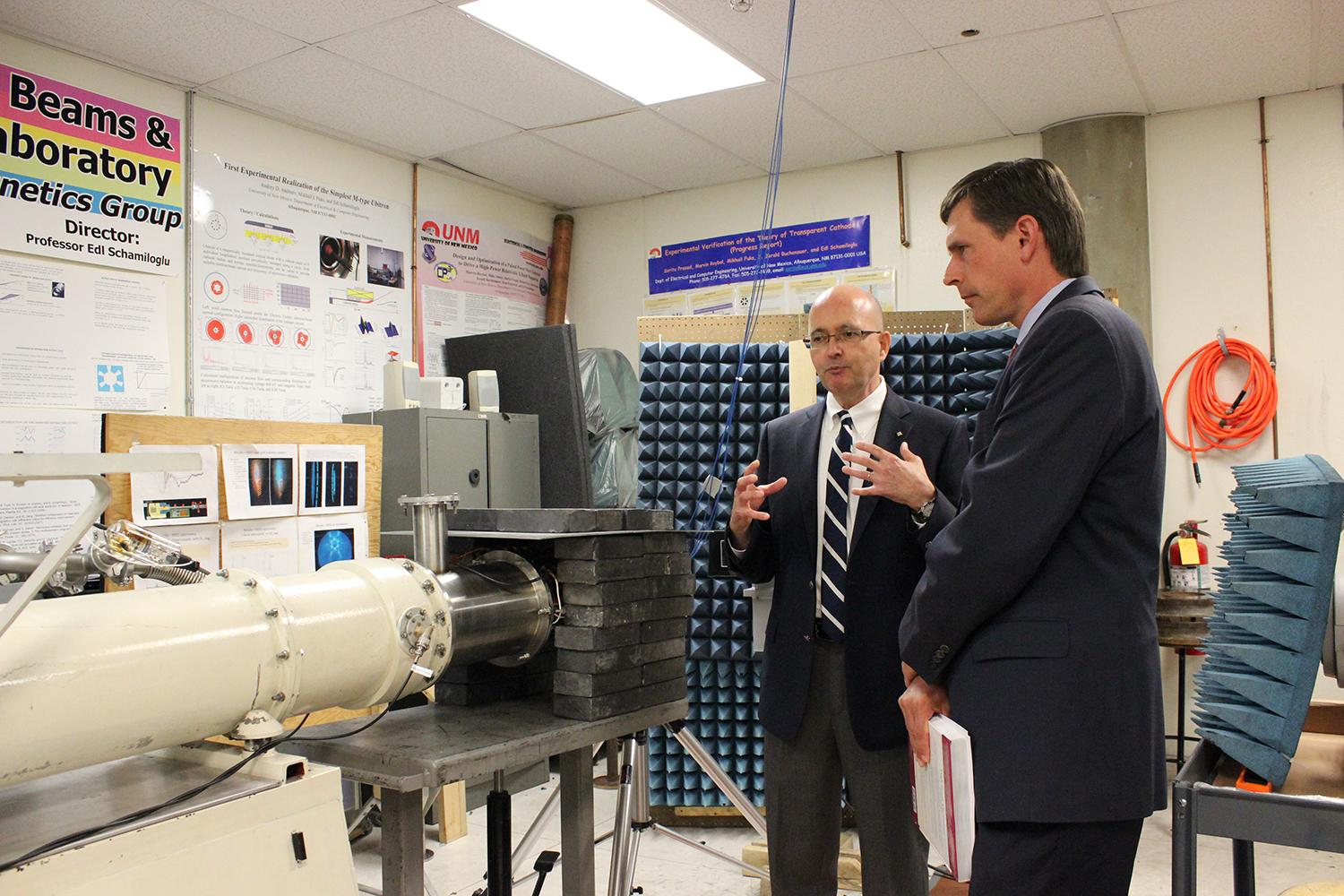 Edl Schamiloglu(left) and Senator Martin Heinrich
U.S. Senator Martin Heinrich (D-N.M.) on Wednesday (Aug. 23) visited The University of New Mexico's School of Engineering, touring labs and meeting with students and faculty. Sen. Heinrich was visiting Boeing in Albuquerque to announce a $17 million investment to acquire directed energy systems that support jobs and boost New Mexico as a center of excellence in this increasingly important area for our military, according to a news release issued by Sen. Heinrich's office. Sen. Heinrich is a member of the Senate Armed Services Committee and founder of the Congressional Directed Energy Caucus.
Following the announcement, Sen. Heinrich toured a directed energy lab facility located in the basement of the Electrical Engineering Building and met with researchers and students working in partnership with Air Force Research Laboratory (AFRL).
For the tour of the UNM labs, Sen. Heinrich was accompanied by Edl Schamiloglu, director of the Pulsed Power, Beams and Microwaves Laboratory and associate dean for research in the School of Engineering, and Mark Gilmore, associate professor in the Department of Electrical and Computer Engineering.
"With our state's unique expertise in directed energy work, this funding will jumpstart the deployment of this critical technology and bring more high-paying jobs to the state,"said Sen. Heinrich. "This is an area where New Mexico can make yet another significant contribution to our nation's defense—and in the process, we can see millions of dollars of investment and many new jobs in our state."
Christos Christodoulou, Jim and Ellen King Dean of Engineering and Computing, said that the School is poised to be the top university in this emerging and crucial area.
"The School of Engineering is proud to be one of the best programs in the country in this important and niche area of directed energy," Christodoulou said. "This specialty requires very sophisticated and dedicated equipment, and UNM is fortunate to have some of the best facilities and best researchers worldwide in directed energy."