Welcome back message from Dean Christodoulou
January 11, 2018 - Christos Christodoulou
Dear Faculty and Staff,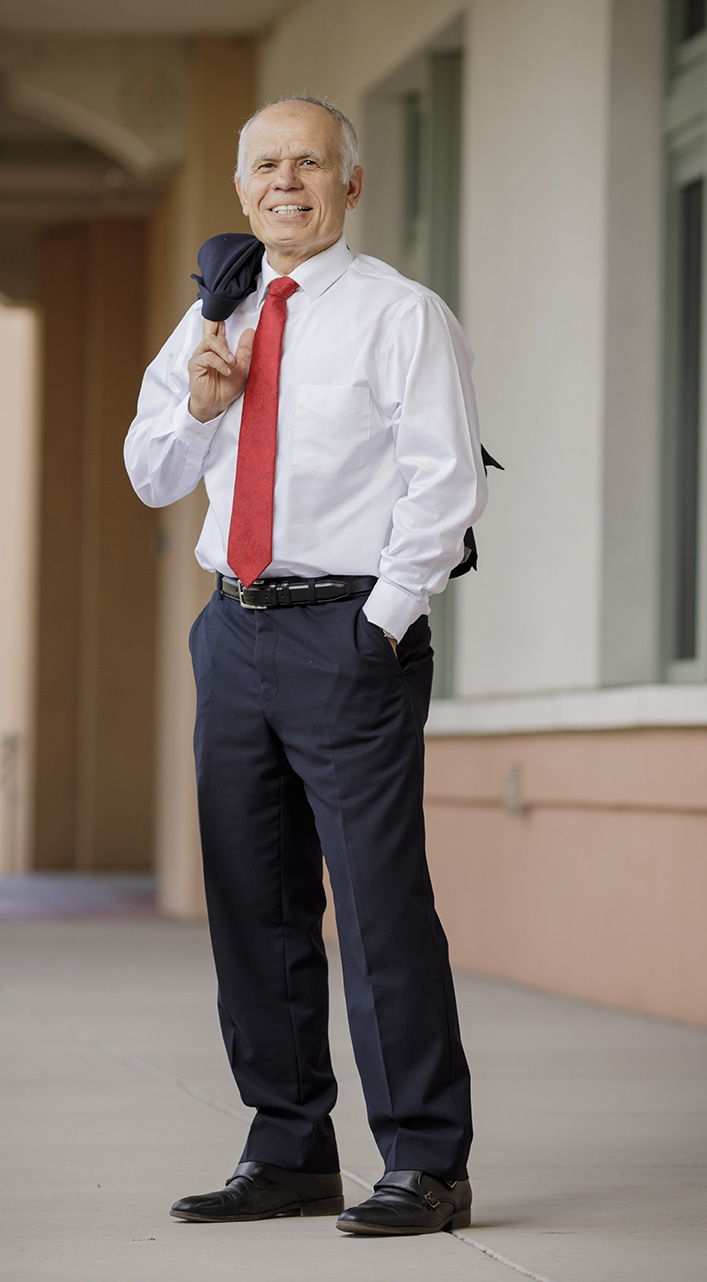 Happy new year and welcome back to a new semester! I hope you had a great winter break and had time to rest and recharge.
 
As we start the new semester, I would like to reflect on some of the efforts we initiated in the fall and talk about how we are moving the School of Engineering forward. 
 
Farris Engineering Center
It is great to start the year with moving into the newly-renovated Farris Engineering Center. The $26 million, 18-month project is not only impressive looking but it also is one of the most high-tech buildings at UNM. It is fitting that the School of Engineering have one of the most,  if not the single most, modern buildings on campus. The main goal of the renovation has been to enhance  research and student learning and the collaborative environment, and we are excited about the future in the new building. I would like to thank Joe Cecchi and April Davidson for a job well done, as well as Professor Catalin Roman for his instrumental help with starting the project.
 
Marketing
We have embarked on a campaign to revamp the School's image and increase awareness of our faculty, staff and students' successes, with the ultimate goal of boosting enrollments. The School enjoys a strong partnership with University Communication and Marketing, which helps promote the School to new audiences. The School will continue to capitalize on this relationship as the marketing campaign unfolds in order to optimize messaging and resources to reach new audiences to increase enrollment, enhance our national reputation, expand corporate partnerships, and increase donor and alumni support.  
 
Recruiting and Retention
This is my No. 1 goal for Engineering. We increased our budget in this area to enhance our recruiting efforts beyond the state of New Mexico. Our Engineering Student Success Center (ESS) team has already visited a number of schools (in state and out of state), have sponsored several events at UNM, and have attended several national conferences to recruit students, including those from the underrepresented  groups.  We continued our support of a variety of high school and middle school outreach programs. In fact, SOE is one of the two most active UNM colleges in the outreach arena. We are planning on using our marketing materials, a new recruitment video, social media, and new online programs to reach more undergraduate and graduate students. I want to thank all the faculty who helped ESS with high school visits and other recruiting events. Having faculty and current engineering students in our recruiting events gives potential students a better perspective on what we have to offer.
 
Faculty and Staff Salaries
I am confident that this semester we'll be announcing various approaches that do not rely on our state budget to enhance faculty and staff salaries. The School compensation committee will be finalizing its recommendation to me and our leadership council early this semester.
 
Research and Industry Collaboration
The School's annual research expenditures in FY17 were $32.4 million.  Our goal is to increase this moving forward because F&A return is another source of revenue for the School and departments that does not rely on the state. With federal sources of research grants likely to stay flat or decline in the coming years, it is critical for the School to grow its engagement with industry, both in the state and nationally.  This is why the School has entered into agreements with Honeywell, Boeing, Booz Allen Hamilton, Applied Technology Associates, AECOM, General Dynamics Mission Systems, Lockheed Martin, Blue Origin, Leidos, Wyle Laboratories, QSigma, Jacobs, Millenium Engineering and Integration, and others.  The School has also engaged with industry to identify areas for strategic growth and collaboration.  These include Descartes Labs, Polaris Alpha, General Atomics, Verus Research and others. In addition, the School has hosted visits from U.S. Sen. Martin Heinrich and his staffers, as well from U.S. Rep. Michelle Lujan Grisham and her staffers. The growth of the SOE research enterprise and fueling the School's economic engine for New Mexico and beyond was a common topic of discussion.  Most recently, the School hosted a visit from the director of science and technology for the CIA (under the auspices of UNM being selected as a member of the CIA's Signature School Program) to identify emerging technologies in the School that might be of interest to CIA's mission.
 
Faculty Hiring
This semester we will be interviewing for eight new tenure-track faculty and three lecturer positions. I hope we all get involved in the selection process to attract the best possible talent.
 
Accreditation
All our programs have been accredited. Thank you all for contributing to this success.
 
Economic Development
One of my goals is to transform the School of Engineering into an economic engine for the state. We are now members of both the Albuquerque Economic Development and the New Mexico Technology Council and have been collaborating with the mayor's office in this arena. I am also serving as one of the 12 members of the New Mexico Bioscience Authority board to attract venture capitalists and companies in the area of bioscience. We are continuing to enhance our collaboration with the Health and Sciences Center.  The Air Force Research Laboratory (AFRL)  has embarked on an ambitious project to establish Albuquerque as a hub for the aerospace industry by building a new facility next to AFRL to attract and host a variety of aerospace companies. The School of Engineering will be playing a major role in research and the education of the future aerospace workforce.
 
Fundraising
I am also excited to be working with our development team. We have visited many alumni in the state and out of state, and I am happy to report that I expect to announce very soon some good news on this front. We have been in touch with several generous donors who want to help the School, and we hope to finalize some of the deals this semester.  In these challenging budgetary times, fostering relationships with our alumni, friends, and corporate partners is more important than ever, and this is one of my main emphases as a dean.  
  
Alumni
A new alumni board was established to help promote the goals of our School. I am happy to say that this board has already been extremely active and most helpful with fundraising activities, helping with student recruitment, establishing scholarships,  and facilitating communication and networking among alumni. This group has been very instrumental in introducing me to various outside engineering, business, and community organizations. This group is also in the process of tracking and surveying all our alumni to determine how we can best engage them in School activities.
 
Tasks to Complete this Semester
We will be creating a strategic plan to guide our vision, as well as assembling an advisory board that will draw members, from all over the country, from the ranks of university deans, industry, and national laboratory leaders. It is my hope that a board of this magnitude will provide us with new and innovative ideas that will help us achieve the goals I am setting as dean.
 
In closing, I would like to thank you for all that you do to make our School such a thriving and an exciting environment for our students and our colleagues.
Please accept my best wishes for a great and productive new year.
Christos