Former Civil Engineering chair Cornie Hulsbos dies at 97
February 6, 2018 - By The Albuquerque Journal
Cornie L. Hulsbos, 97, a resident of Albuquerque for 52 years, died Jan. 22.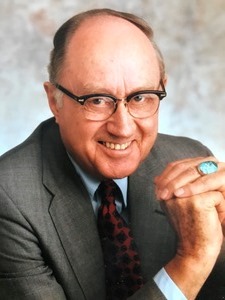 He was professor and chair of the Department of Civil Engineering at The University of New Mexico from 1965 until his retirement in 1985. 
Bruce Thompson, professor emeritus of civil engineering at UNM, fondly remembers working with Hulsbos.
"He was an excellent chair, a great mentor to me and other junior faculty, and a wonderful, thoughtful, caring man," Thompson said. "He left a legacy of accomplished students, a wonderful family, and many great friends."
Hulsbos was born in Givin, Iowa, August 23, 1920. He attended small country schools and after high school he moved to Ames, Iowa, and worked his way through Iowa State University, earning a bachelor's degree in civil engineering.
During World War II he worked for the American Bridge Co. in Ambridge, Pa., helping to build landing ships for tanks which were used in the Normandy invasion. He married Elsie in 1945. Shortly after their marriage, they moved back to Ames, where he completed his master's and Ph.D. in structural engineering. They had three children in Ames: Susan, Betty (Zana), and David. 

In the early 1960s, Hulsbos taught and did research at Lehigh University in Bethlehem, Pa., before coming to UNM.

He was an avid fisherman and added fly fishing to his list of hobbies after retirement. The San Juan River was one of his favorite fishing spots. He also enjoyed traveling, camping, photography, gardening, hiking, and attending UNM basketball games for 50 years.
 

He was preceded in death by his wife, Elsie, in 1978; and by his sister, Wilma VanderWilt, in 2013. 

He is survived by daughters, Susan (Dean) Bursch, and Zana Burns; son, David (Mary) Hulsbos; seven grandchildren; five great-grandchildren; nieces, nephews, and their children and grandchildren. 


Visitation will be Friday, Feb. 9, from 6-7 p.m. at French Funeral Home, 1111 University Blvd. NE. The service will be Saturday, Feb. 10 at 10 a.m. at First Presbyterian Church, 215 Locust NE. Interment will be at Sunset Memorial Park, 924 Menaul Blvd. NE following the service.