School holds inaugural graduate student recruitment event
March 5, 2018 - By Kim Delker
In an effort to boost graduate school enrollment, The University of New Mexico School of Engineering held its first graduate student recruiting event March 1-3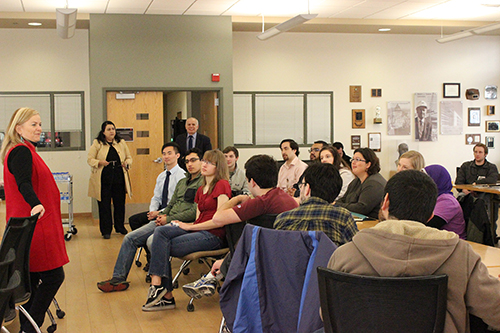 Charles Fleddermann, associate dean for academics in the School, said that this is the first of what is planned to be an annual event to recruit more graduate students.
Around 30 prospective graduate students were in attendance, many of whom traveled from outside the state.
The event kicked off on Thursday evening with a dinner in the Centennial Engineering Center Stamm Commons, where Fleddermann officially welcomed the guests to campus. They also heard from Kenneth Armijo, a School of Engineering alumnus and current member of the staff at Sandia National Laboratories.
Friday's events included a welcome address from Dean Christos Christodoulou and Julie Coonrod, dean of the Graduate School and professor of civil engineering. Edl Schamiloglu, associate dean for research, gave a research overview. Other events included a campus tour, departmental tours, presentations from Los Alamos National Laboratory and the Air Force Research Laboratory, a dinner, and opportunities to meet with faculty and current graduate students.
On Saturday, visitors were invited to explore Albuquerque with a visit to Old Town and the Sandia Mountains.
Aaron Skouby, an undergraduate at Texas A&M, is considering graduate school in computer science. He said there are still a lot of factors to consider, but he said his first trip to Albuquerque and UNM has been positive.
Michaela Jones, an undergraduate at Arizona State University, was born and raised in New Mexico and is considering coming back for graduate school in civil engineering at UNM. She said she's looked at other campuses, but was impressed by UNM.
"The other school I looked at just didn't feel right," she said. "Everyone here is so warm and friendly."